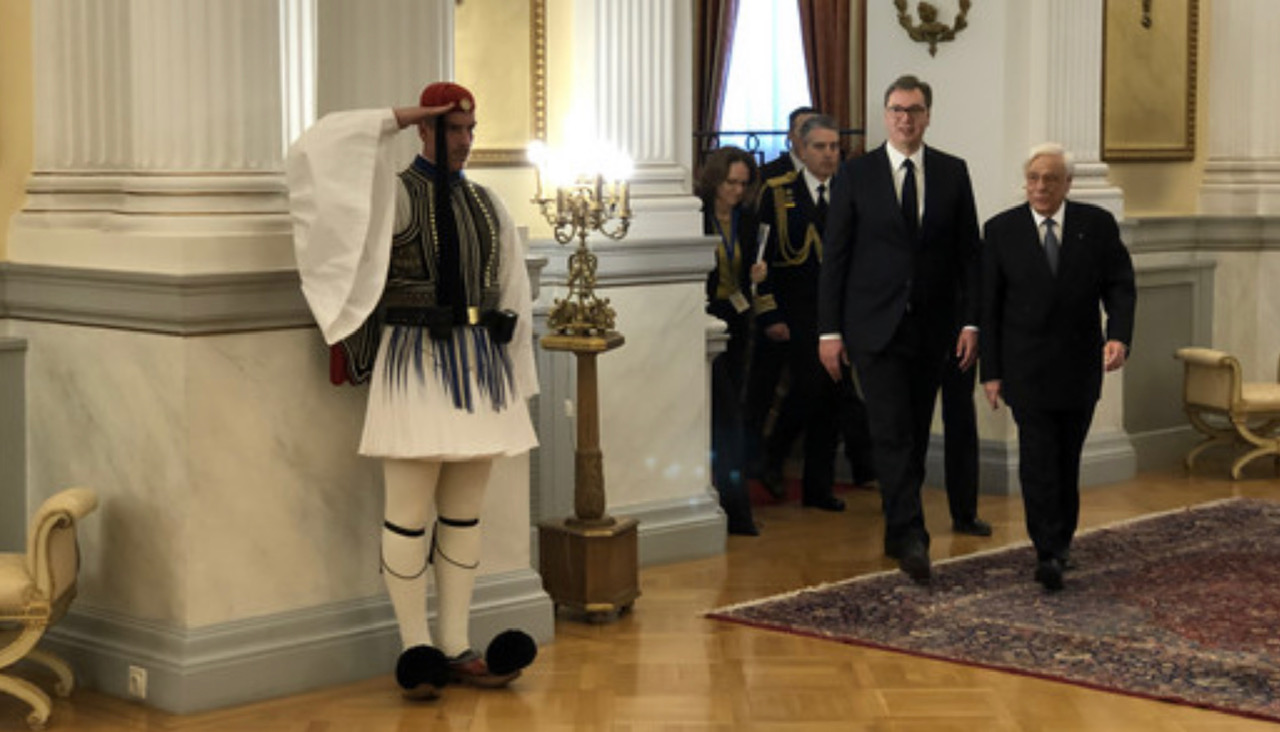 Vucic, Mitsotakis to sign a Strategic Partnership Agreement
Serbian President Aleksandar Vucic, who arrived in Athens yesterday on an official visit to Greece, met with President of the Hellenic Republic Prokopis Pavlopoulos to discuss bilateral relations between the two countries and bilateral co-operation.
The Serbian President thanked Pavlopoulos for his hospitality, stressing the friendship between the countries, economic transactions and Greece's political support to Serbia.
"We are grateful to Greece for supporting the territorial integrity of Serbia; always and everywhere we will support Greece and will not change our position in Cyprus", Vucic said.
The Serbian President stressed that Serbia and Greece are politically mutually supportive on all international organizations and institutions, adding that the two nations were side by side in difficulties.
He thanked Greece for its support for Serbia's European course, adding that Serbia was aware that it had certain conditions that no one else had, "including the Kosovo-Metohija issue".
"You always keep in mind the interests of Serbia, the proximity of our countries, and I am sure that this visit will give new impetus to our already good relations", the Serbian President concluded.
Greek President Prokopis Pavlopoulos referred to Serbia's European course, which has made significant progress.
"First of all, Greece has been a member of the Union and the Eurozone for more than 40 years. We want a Europe of peace and stability and we need other countries outside the EU to build it. We all want to build together an EU Southeast Pillar, leave behind wars and disagreements", Pavlopoulos said.
"Anyone who wishes to become an EU member must meet all European criteria before accession without any deduction, and must additionally resolve all disputes with other countries.
Serbia has made significant reforms, opened a lot of funds and is therefore continuing with the European perspective. You are at the height of your mission and we are here to help move you towards the EU, the President of Greece said, noting that his country is committed to Serbia's EU accession as soon as possible.
He also said that Greece is committed to respecting international law. He also referred to Turkey and its relations with other countries, but also to European standards, which he said [Turkey] does not respect. He also said that Greece wants a quick solution to the Cyprus problem.
Following the talks between the two Presidents, extended talks will be held between the delegations of the two countries.
Athens Mayor Costas Bakoyannis will present Vucic with the Gold Medal of the City of Athens and then he will meet with Greek businessmen.
On Wednesday, the second day of the Serbian President's visit, Vucic will meet with Greek Prime Minister Kyriakos Mitsotakis, with whom they have a long-standing acquaintance, close personal relationship and party affiliations as the parties they lead belong to the European People's Party.
Vucic and Mitsotakis will chair the Third Summit on Cooperation between Greece and Serbia and will then sign a joint declaration on the strategic partnership between the two countries, as well as a number of important agreements, according to information from Serbian diplomatic sources.
During his stay in Athens, Aleksandar Vucic will meet with SYRIZA President and Head of the Main Opposition Alexis Tsipras, as well as with Archbishop of Athens and All Greece Hieronymos II.
The Serbian President is accompanied by Ministers of Foreign Affairs Ivica Dacic, Energy Aleksandar Antic, Defense Aleksandar Vulin, Education Mladen Šarčević and Deputy Minister of Economy Dragan Stevanovic./ibna