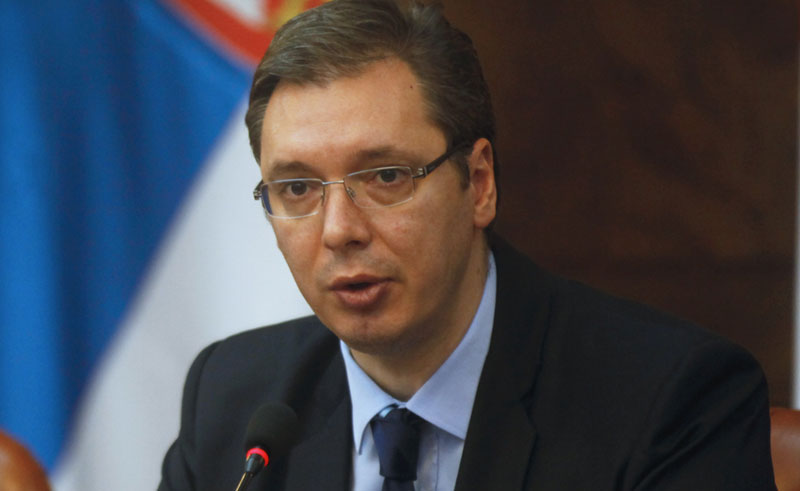 Belgrade, June 3, 2015/ Independent Balkan News Agency
By Milos Mitrovic
Serbian Prime Minister Aleksandar Vucic, who has started the official visit to United States, said that his meetings with the representatives of big American companies on Tuesday were "very good". The common point in all meetings, Vucic added, was the essential importance to preserve political and economic stability in Serbia.
"This is what we have tackled everywhere – political and economic stability and low deficit", Vucic said. Premier added that he had gained applauses "just because of sincerity and the results they are aware on".
Serbia is respected in the U. S., he went on. "I think that Serbia is being respected more and more and when you receive such an treatment in the United States, then I believe that Serbia can count on far more better future", Vucic underlined.
PM had meetings with the representatives of Microsoft, General Electrics, Freeport, NCR and other companies. In his words, all the discussions "were very good, full of energy and interest from both sides".
"Here, in Microsoft, we were received in the most heartiest manner. They already have 150 employees in our country and we have discussed the upgrading of their capacity… We were talking about how we can jump over entire generation – and one generation we have lost – in order to recover as fast as possible what we had lost".
Vucic added that he is proud on "what some Serbs have succeeded to manage in America", singling out the contribution of Marija Zivanovic "who has brought 1,400 jobs for young people in NCR in Belgrade".
Meeting with Biden uncertain
Later today Vucic will meet Susan Rice, United States National Security Advisor. TV B92 recalled that Rice was U.S. Ambassador to United Nations. American Vice-President Joe Biden was supposed to be Vucic's main host, but due to his family tragedy – his son passed away – the meeting is uncertain. Last week American ambassador to Serbia Michael Kirby said that Biden has praised recent Serbian efforts in the region, including Vucic's official visit to Tirana.