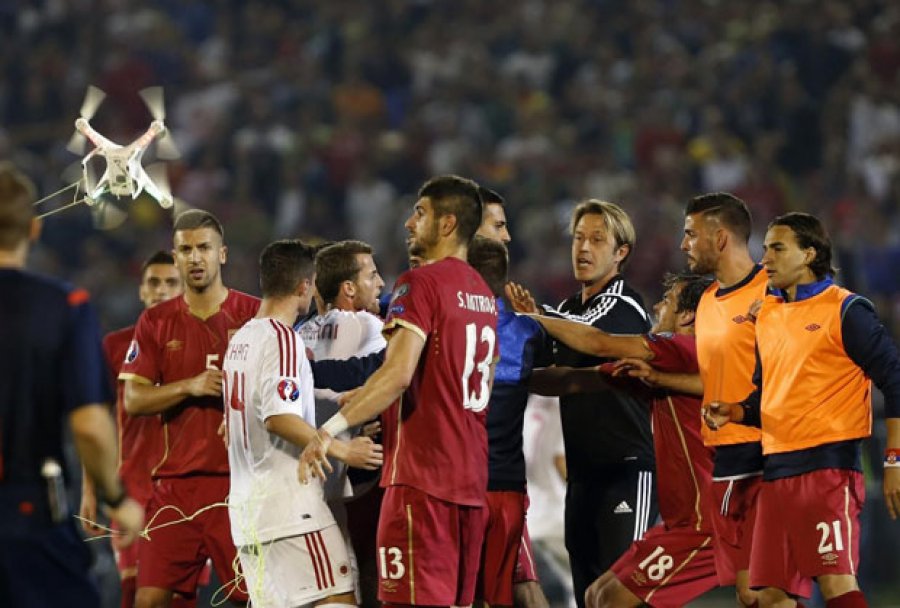 By Milos Mitrovic – Belgrade
Serbian premier Aleksandar Vucic said on Friday that he regrets because UEFA has deducted three points to national football team; at the same time Vucic "is glad because Albanian side has been declared to be responsible for the incident" by European football association's decision to award Serbia with 3-0 walkover after Euro 2016 qualifier in Belgrade was abandoned last week.
The match between Serbia and Albania on 14 October has been interrupted when drone carrying the image of the "Greater Albania" appeared above the pitch. The drone provoked fight between Serbian and Albanian players and Serbian fans invasion on the pitch.
Tense match has also strained the relations between Belgrade and Tirana which has resulted with the cancelation of Albanian Prime Minister Edi Rama's visit to Belgrade. The first visit of an Albanian PM to Belgrade in 68 years was scheduled for 22 October.
However, at the insistence of the European Union and especially Berlin, Rama will visit Belgrade as early as 10 November. Earlier this week Albanian foreign and economy ministers attended Western Balkans conference in Belgrade.
The representatives of Kosovo government were also present.
Vucic told Radio-Television of Serbia (RTS) that he was disappointed with the statements of Albania's officials and "the fact they did not want to admit their mistakes and condemn those who had brought "Greater Albania" flag at the stadium".
PM regrets UEFA's decision to deduct three points to Serbian team.
"I am sure that they (Serbia's players) could have beaten Albania. From the political perspective, the decision (of UEFA) which implies that Albanian side was responsible for the incident – because they have been punished with 3-0 defeat – is good", Vucic said.
"We are responsible because we did not managed to calm down … and turn the blind eye on brutal political provocation which is recognized as such also by UEFA", he added.
Vucic admitted that "there were failures in the organization of the match and Serbia's players will pay the price". The price which will be paid by both Serbian and Albanian football associations is 100,000 Euros, UEFA has also decided.
UEFA also ruled that Serbia must play two home qualifying games behind closed doors. Both Serbia's and Albania's football associations announced they would complain on UEFA's decisions.
Vucic repeatedly reacted to Rama's remark that so called Greater Albania "is the nightmare of Serbia". "Yes, this is our nightmare and nightmare of every normal person and citizen and we would not allow the creation of the Greater Albania".
Nevertheless, PM stressed that Serbia "wants to talk with Albania", singling out the economy as the domain of the mutual interest of the two countries. "This is my job. My job is to behave rational and to secure, alongside with other members of the government and the President, peace, stability and economic progress for our country", Vucic concluded.