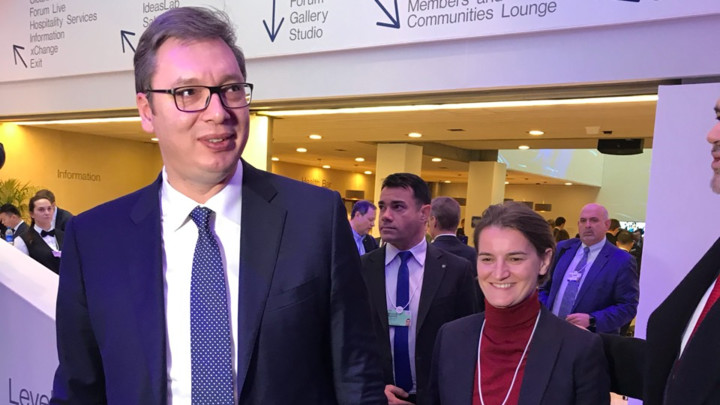 Novinarka i članica Saveta za štampu Tamara Skroza ocenila je da je skandalozno to što je predsednik Srbije Aleksandar Vučić govorio na Ekonomskom forumu u Davosu na panelu "Sloboda medija u krizi", kao i da je skandalozno i to što je za stanje medija u Srbiji indirektno optužio opozicione snage i nezavisne medije.
Skroza je za agenciju Beta kazala da Vučić nije trebalo da govori na tom panelu na Svetskom ekonomskom forumu jer, kako je rekla, u svim relevantim evropskim istraživanjima dobija negativne ocene o stanju sloboda medija.
"Nema nikakvog opravdanja da se na takav panel pozove čovek koga i evropske institucije označavaju kao predsednika države u kojima su ugrožena prava medija. To nije samo naša ocena, nego i svih relevantnih istraživanja medijskih sloboda", rekla je Skroza.
U izjavi za portal Balkan insajt, komentarišući nastup predsednika Srbije na panelu o medijima u Davosu, direktor programa televizije N1 Jugoslav Ćosić ocenio je da se u njegovom govoru primećuje "…epski cinizam koji ostavlja utisak čoveka koji je na ovom događaju otkrio da nešto nije u redu sa slobodom medijia u Srbiji".
"Istina je drugačija, i on (Vučić) stoji iza svega što ne valja. Istina je da su poslednjih nekoliko dana predsednik Srbije i ministarka za Evropske integracije Jadranka Joksimović, bili verbalno agresivni prema novinarima N1 koji su ih pitali o poseti ruskog predsednika Vladimira Putina i o medijskim slobodama", naveo je Ćosić za Balkan insajt, dodajući da su to prilikom posete Beogradu naveli i predstavnici Reportera bez granica.
Predsednik Srbije Aleksandar Vučić izjavio je na panelu "Sloboda medija u krizi", na Svetskom ekonomskom forumu u Davosu, da nije ponosan na stanje u medijima u zemlji. "Ne kritikujem opoziciju zbog toga što novinarke nazivaju droljama. Govorim o onome što mi moramo da uradimo", rekao je Vučić u Davosu u utorak./IBNA