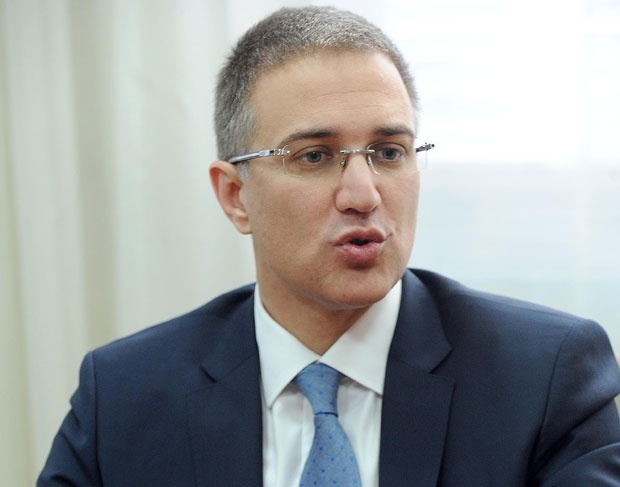 Nebojsa Stefanovic (photo), interior minister and high official of the ruling Serbian Progressive Party (SNS), has accused unnamed party colleagues for conspiring with the opposition and using that group for "personal purpose, privileges and to get rich".
In the interview for the pro-government tabloid Srpski telegraf, Stefanovic underlined that SNS leader and Serbian president Aleksandar Vucic "did not accidentally say that some officials are plotting with the opposition".
He suggested that these unnamed SNS members would bear the consequences.
When asked with whom some progressives allegedly plot with, Stefanovic has mentioned Dragan Djilas, Vuk Jeremic, Borko Stefanovic and Bosko Obradovic – leaders of the opposition Alliance for Serbia (SZS). "Therefore, these people are practically the leaders of the group which is trying to sack Vucic".
According to the interior minister, Vucic would take "worse and harsher measures" due to the alleged pressures within SNS against him. Those who believe that Vucic would change his politics because of the pressures do not know him well, he said.
Stefanovic declined to reveal the names of the SNS officials which are allegedly disloyal to the party leader. He said instead that "they never mention the people from the opposition in a negative context"; they "engage in politics only when it is easy".
Alleged SNS dissidents are making statements – as Nebojsa Stefanovic said – "tepid like mountain streams". "You cannot feel the fire in them".
Stefanovic reiterated that he is in favor of the early elections, explaining that "people who protest in the streets are putting into question the very core of Vucic's rule". "They are questioning both the legitimacy of Aleksandar Vucic and our rule, so I think that we should check the people's will through the vote"./IBNA