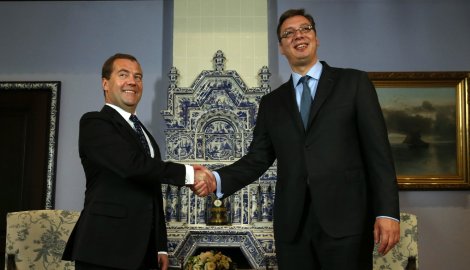 Belgrade, October 26, 2015/Independent Balkan News Agency
By Milos Mitrovic
Serbian Prime Minister Aleksandar Vucic starts his three days visit to Moscow today. He will meet with President Vladimir Putin and his Russian homologue Dmitry Medvedev, the Serbian government stated today. The visit comes amid Serbian efforts supported by Russia and other countries to stop Kosovo from becoming a UNESCO member, as well as growing influence of Moscow in the region. Vucic will be accompanied by several Serbian ministers and some 100 business leaders.
According to the Serbian government Vucic will attend Serbian-Russian Business Forum and Moscow international forum on innovations.
During the visit there would be discussions on political and economic cooperation between Serbia and Russia, while a number of agreements will be signed, Vucic said last week. "We are thankful to Russia because of its support in the United Nations Security Council, UNESCO and all international organisations… where they have helped us defend and preserve the integrity of our country", Vucic stressed.
Earlier this year Russia has blocked British resolution on Srebrenica in Security Council on Serbia's demand. At the recent session of UNESCO Executive Council, Russia strongly opposed to Kosovo's application for membership.
Russia has high expectations from the visit, according to Alexander Chepurin, Russian Ambassador to Serbia. In an interview to Tanjug news agency, Chepurin said he expects a "breakthrough" in economic cooperation between Russia and Serbia. Vucic and his Moscow hosts will agree on the continuation of the cooperation in political level ahead of UNESCO General Assembly meeting, Chepurin said.
The ambassador said that Vucic's main host would be Russian premier Medvedev. "The relations of Serbia and Russia are grounded on the strategic partnership and traditional friendship that lasts for centuries. The confidence among Russians and Serbs also exists at the level of intuition", Chepurin concluded.