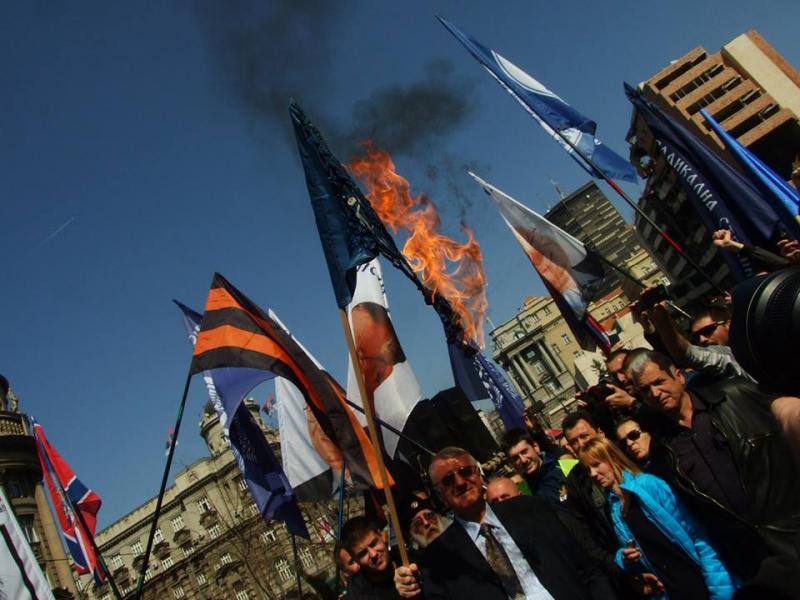 Belgrade, March 31, 2015/ Independent Balkan News Agency
By Milos Mitrovic
United Nation court's order which revises its previous decision to temporarily release Serbian rightist politician from the detention represents an attempt to punish Serbia, Prime Minister Aleksandar Vucic stated today. "Serbia has only one major obligation – to preserve stability, provide further economic reforms and respect political freedoms", Vucic stressed.
Vojislav Seselj, Serbian Radical Party (SRS) leader, has been temporarily released from the International Criminal Tribunal for the Former Yugoslavia (ICTY) in November 2014 after spending more than 11 years in the court's detention center in The Hague.
Seselj, whose ultra-nationalist party members were until 2008 both Vucic and current Serbian President Tomislav Nikolic, has to go back to The Hague due to his repeated statements which he gave after the release – namely, that he would not voluntarily surrender, as he did in 2003 shortly after he was charged for the war crimes in Croatia, Bosnia and Vojvodina in the 1990s.
In his text for today's Politika daily Vucic did not reveal what would be government's decision considering ICTY's move. Premier indirectly suggested that Seselj has been released last November due to dissatisfaction over his Serbian Progressive Party (SNS) triumph at the elections which were held in March. He did not specify who was – in his opinion – disaffected, but rather stressed that "they started fierce campaign of fear" over Seselj's release.
However, after Seselj's release in November, Vucic's aides have commented that ICTY and international community had made such decision in order to put pressure on PM.
"It seems that somebody somewhere has mistakenly calculated that Vojislav Seselj represents the factor which could tremble both me and the Government of Serbia and, therefore, started to use him as jack in the box", Vucic underlined in his article. He emphasized that ICTY's decision "has nothing to do with law, justice or unfortunately Vojislav Seselj".
"There are only wrong attempts to punish the Government of Serbia and its policy", he added.
"I say 'wrong' because I have said long time ago that I am not intending to be an obstacle for Serbia… on its path towards Europe or considering its relations with the world. If somebody believes that I am an obstacle, this should be clearly stated without using dirty tricks", Vucic emphasized alluding to ICTY's decisions about Seselj.
Seselj said earlier that Nikolic and Vucic would have to arrest him.
Seselj's radical party was among major political groups in Serbia since the beginning of 1990s; however, after Nikolic and Vucic decided to take pro-European approach and founded SNS in 2008, it collapsed. SRS is out of the Serbian parliament since 2012.
Photo: Vojislav Seselj burns NATO flag in Belgrade on the 20 anniversary of Western bombardment of Serbia, 24. March 2015