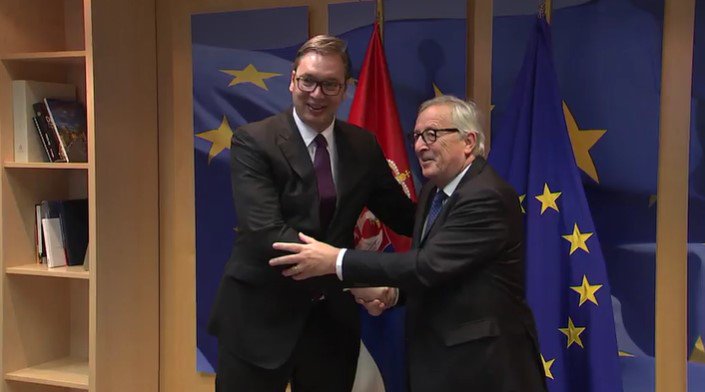 Serbian President Aleksandar Vucic, following Federica Mogherini's farewell working lunch, stressed that Serbia's strategic goal remains the path towards the EU, yet we need to adjust our tactics as "the referee has decided to change the rules in the middle of the game".
Vucic, following a dinner between the Western Balkan leaders and the outgoing EU High Representative Federica Mogherini, said no one could ever question our strategic course. About the meeting, he described it as good and open.
Furthermore, as Vucic stated, the level of relations with the EU and the level of relations between countries in the region were also discussed during lunch.
"I am happy because the leaders have more than ever understood that we need to focus on ourselves, speak more openly, maintain peace and stability", Vucic said.
He noted that countries in the region would try to meet more often without European intermediaries and to consider resolving problems.
"Of course, there will be times when two steps will be made forward and one or one and a half back, but over the course of two years we will achieve significant change that will lead to the citizens feeling less abandoned", he commented.
He also added that most of the participants were disappointed with the EU Council's decisions regarding the commencement of the accession negotiations with North Macedonia and Albania.
Vucic stressed that Serbia would pursue economic reforms, noting that he expects the report to see a 4% increase in the third quarter; he also projects that Serbia will move farther away from the World Bank's and the IMF's plan.
"Reforms are being implemented for us and our people. It is a strategic path and we have to tactically adapt, as the referee decided to change the rules in the middle of the game", Vucic said, adding that Serbia would continue to collaborate with everyone around the world.
Finally, Vucic also pointed out that in his meeting with Jean Claude Juncker he called for Serbia, Bosnia and North Macedonia to be excluded from the steel quota.
Vucic gifted to the outgoing President of the European Commission a 40-year-old brandy from Serbia. /ibna