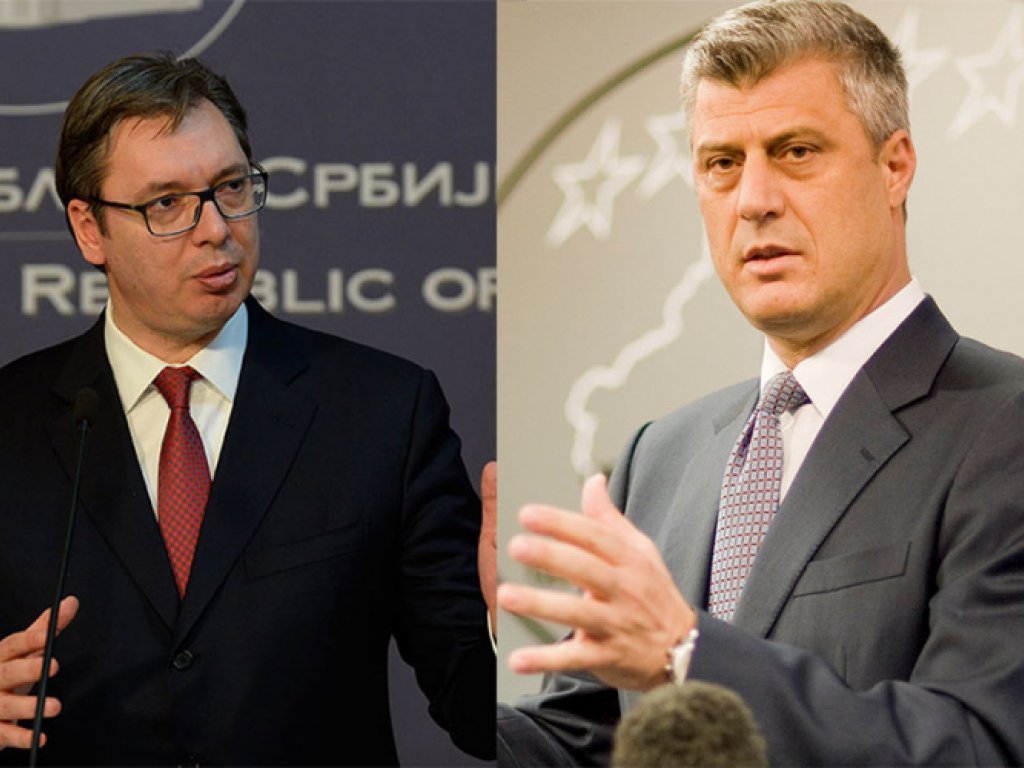 The two-day visit of Aleksandar Vucic last weekend to Kosovo's Serbian areas marks the start of a campaign to prepare public opinion for a painful compromise.
In his speech in northern Mitrovica, Vucic did not reveal his hand to explain that he is contemplating the "delineation of Albanians and Serbs"; however, he hinted that the solution will not satisfy all the aspirations of the Serbian side.
"We want compromise, not dictation. We want to listen to everyone and to be heard. Above everything, I want to ensure you stay in your region because it belongs to you. The path will not be short or simple for us. We will need to renounce much and sacrifice many things", Aleksandar Vucic said in his speech.
The fact that the Serbian president did not outline his proposal, as he promised he would do when announcing his visit to northern Kosovo, has caused disappointment not only to the crowd that rushed to listen to him, but also to public opinion in Serbia which was eagerly awaiting to find out what the President of the Republic means when he speaks of "delimitation".
Analysts in Belgrade estimate that Vucic did not reveal his suggestions for tactical reasons, and there are few who believe he backed down when he saw a people who were not ready to accept unpleasant truths. It is no coincidence that the biggest applause came when he referred to Milosevic and when he assured that Serbia would not join NATO.
Communication-wise, however, with his visit to Kosovo, Aleksandar Vucic scored points in Serbia and abroad. The reaction of the UCK veterans to the barricades and demonstrations when he attempted to go to the Serbian enclave, the village of Banja, contributed to this. The Serbian president's intention to visit a Serbian village in the center of the Drenica province, where the Albanian armed struggle for independence began in 1998, was clearly going to cause reactions. Perhaps this is why this Serbian enclave was chosen over another one that wouldn't have such a symbolic value for Albanians.
Thus, Vucic came out winning despite not being able to visit the village. It was a "check mate" move meant to expose Pristina. Kosovo's only politician who understood Vucic's intention was Hashim Thaci, who condemned the reactions of the former UCK fighters and the government's decision to ban Vucic from visiting the Serbian enclave. Thaci was once again exposed by Prime Minister Ramush Haradinaj, who has been systematically undermining him in this trial of strength against Vucic that began a few months ago.
Thaci's intention to visit the Presevo valley in southern Serbia is also seen as part of this feud. As the Thaci office leaked, next Wednesday the Kosovo president plans to visit Presevo and other municipalities in southern Serbia where the Albanian population is a majority.
According to news agency Presheva Jone, Thaci will visit Presevo valley along with European Commissioner for Enlargement Johannes Hahn and ministers of the Kosovo government. An Albanian official in Presevo said the visit will go ahead with the help of the European Union, with Belgrade's approval secured.
Over the past two weeks, Hashim Thaci met three times with southern Serbia Albanian representatives. These meetings took place as part of his efforts to make the Presevo valley Albanians' bid to annex their region to Kosovo, part of the dialogue with Belgrade. Thaci speaks openly about this prospect in the context of his proposal to "correct" the border with Serbia. His persistence does not seem to bother Belgrade. On the contrary, as Serbia's Foreign Minister Ivica Dacic recently said, Thaci's attitude is an opportunity to raise the issue of the annexation of northern Kosovo to Serbia. The phrases, therefore, "Border Correction" and "Determination of Albanians and Serbs" used by Presidents Thaci and Vucic appear to have the same meaning and indicate the intention to exchange land. Everything else is part of the tactics of both sides to strengthen their negotiating position./IBNA