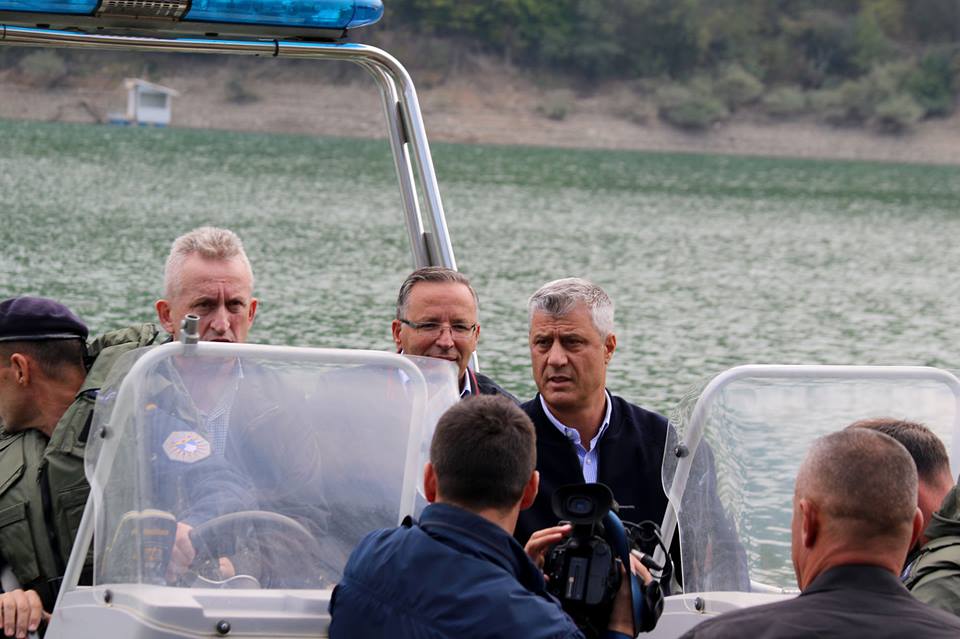 Pristina and Belgrade are both performing on the stage of a war of impressions which can become of dangerous proportions. A walk, yesterday, of Kosovo's President Hashim Thaci on the banks of Gazivode Lake and an inflatable boat ride was enough for Serbia's president, Aleksandar Vucic, to have the armed forces ready, on red alert, in case of need.
A reaction intended for internal consumption, since no practical benefit could have been achieved even if the special forces of the Kosovo police were to intervene in the north… unless some believe that Serbia will send an army to northern Kosovo by risking a new war with NATO.
Thaci's visit to Gazivode Lake was also a move for internal consumption, and it is believed that Vucic and Thaci are holding the leading roles in a game played in the frame of the same show. Hashim Thaci did not visit Gazivode to admire the natural beauty of the area – he said – but to prove to his people that he can visit any part of the territory of Kosovo if and when he wants to.
In recent days political opponents from on the side of the nationalist right and the media that support them have spread the rumour that Thaci does not dare to visit Gazivode unlike Vucic who did so two weeks ago. Thus, the President of Kosovo – accompanied by dozens of men of the special police forces – visited the lake, was symbolically photographed at the same spot, in the dam, where Vucic had been photographed and indeed went aboard an inflatable boat for a ride, something that the President of Serbia did not dare do. 
Hashim Thaci played his own game and left the room free, to Vucic. "Equipped with long-range guns", "Hooded, gun-equipped terrorists" were some of the phrases used by the head of the Serbian government's Kosovo office, Marko Djuric, in his effort to describe the police officers who accompanied Hashim Thaci. Within an hour he gave three extraordinary press conferences, where he repeated the same things only in order to preserve and strengthen the climate of tension.
Almost three hours after Thaci's return to Pristina, Djuric continued to claim that they were still in the lake area. Journalists from Kosovo were trying to explain that there are no policemen in the lake and access is free but in vain. The show had to be continued according to the scripts directions. Djuric insisted on trying to maintain this blurry atmosphere until President Vucic, who was in Nis, returned to Belgrade.
As soon as he returned, Vucic made an impressive move ordering the armed forces to be on stand-by.
So, both protagonists, Thaci and Vucic were pleased with the way they played their part. But the audience was left wondering if the show they had attended was an opera or an operetta…. / IBNA