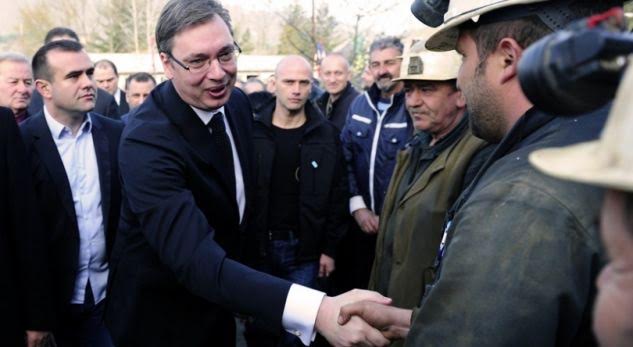 Pristina, 4 April 2016/Independent Balkan News Agency
By Elton Tota
Prime Minister of Serbia, Aleksandar Vucic stayed in the northern communes of Kosovo inhabited by the Serbs during the weekend. In the framework of the electoral campaign for the elections in Serbia, he held a speech in Leposavic, in Trepca, in the monastery of Banjska, in the hospital of Mitrovica, in the Ujman Lake and in Zubin Potok.
Opposition in Kosovo considered his declarations as provocations and territorial claims, while government representatives considered them as political marketing.
The Serb PM said that in the talks between Kosovo and Serbia in Brussels, he will insist for authorities in Kosovo not to approve a law which transforms Trepca plant a public owned company.
"We will insist in Brussels. We don't want to insult anyone, but we will protect Trepca. It is ours and it will never belong to the so called Republic of Kosovo", he said.
During his visit to Zubin Potok, Vucic has proposed the creation of a joint mechanism for the management of the lake of Ujman in the territory of Kosovo.
Minister for Dialogue in the government of Kosovo, Edita Tahiri, has considered the declarations issued by the Serb PM in the north of the country as "a political campaign".
It has denied any possibility that there may be talks on Trepca and other richness of Kosovo in Brussels.
"We have clarified our positioning on Trepca and other richness of Kosovo in Brussels. The state and people of Kosovo decide on Kosovo's richness", she said.
Leader of Self Determination, Visar Ymeri said that "Vucic's entry in Kosovo threatens the sovereignty of the Republic of Kosovo and violates the state's dignity".
"By declaring that 'we defended Ulman' and 'Trepca will never belong to Kosovo', the criminal of Serbia underlines the true objective of his state-prevent the Republic through 'Zajdenica' and prevent economic development by usurping resources", Ymeri declared.
President of the New Kosovo Alliance, Behgjet Pacolli, said that if he had power, he would not give Vucic an opportunity to make declarations against the state of Kosovo.
"I would like to say to the Serb PM that the Republic of Kosovo is independent, civilized and guarantees the free movement of people from and to Kosovo. You can come to Kosovo to visit the Serb minority, but you have no ri ght to intervene in our affairs", Pacolli said. /ibna/