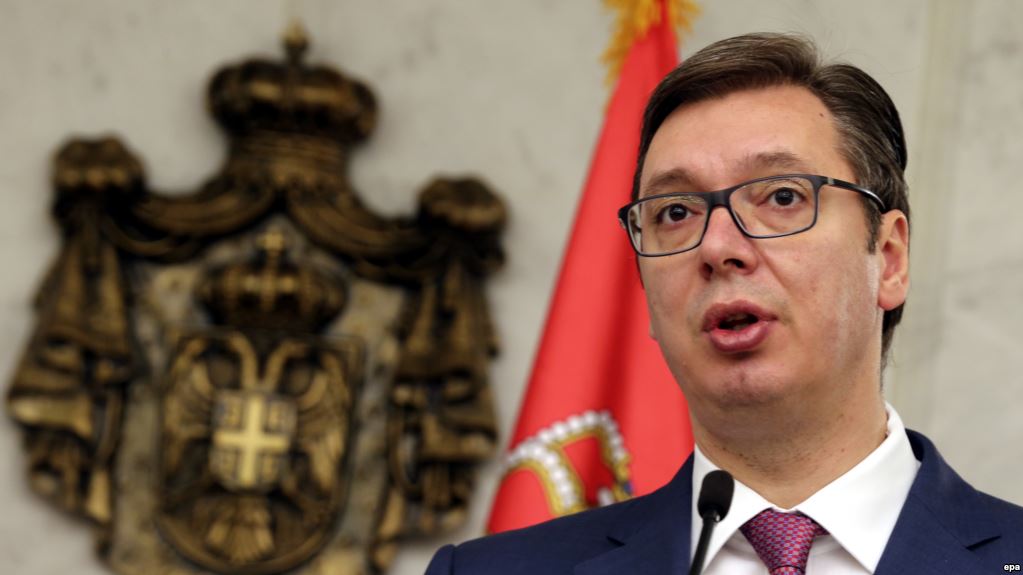 Aleksandar Vucic, Serbian prime minister since 2014, resigned today and took the oath formally becoming the new president. Vucic was elected for the new post in April. The oath ceremony took place in the National Assembly and was followed by the protests of opposition members of parliament. The presidential term lasts five years.
After the ceremony, Vucic went to presidential building; he sent off from there his predecessor Tomislav Nikolic. In February, Nikolic announced he would run for the second term. However, he gave up following "consultations" with Vucic. Unlike  Nikolic five years ago, it is not expected that Vucic would resign from the position of Serbian Progressive Party (SNS) leader.
The new president said he was proud of "all the results" he allegedly achieved during his two prime-ministerial terms, "of each kilometer of constructed highways, thousands of new jobs". Vucic added that "a lot of work" is to come.
"As the president, I promise that I will, on behalf of you, preserve the peace and stability, I will take care of you and I will always love you", Vucic told thousands of his supporters in front of the parliament earlier today. "I will always fight for your children, as well as for mine", he went on.
Vucic promised "gradual progress" in the field of economy. "Do not look behind you, look to the future, to the country of your children, and not the one of your grandfathers", he said. Vucic quoted Laozi praising himself: "I am a very brave man because I love you a lot and I love Serbia the most in the world". He concluded his speech by saying: "Bye, bye, I am going to work now".
Part of the opposition MPs protested in the parliament. Conservative lawmakers had banners "not my president" accusing Vucic for "treason". The leader of the movement "It was enough" Sasa Radulovic protested because his group was prevented from holding a press conference in parliament.
Before the ceremony, the followers and foes of Vucic clashed in the street in the center of Belgrade. The journalists of several media have been attacked by the persons that coordinated SNS rally in front of the parliament. Some protesters were prevented by SNS and police from staying before the assembly building.
The satirical website njuz.net commented Vucic's transfer to new post: "the citizens of Serbia took the oath before Aleksandar Vucic". Vreme weekly sees Vucic's taking of the new post as his "coronation"./IBNA