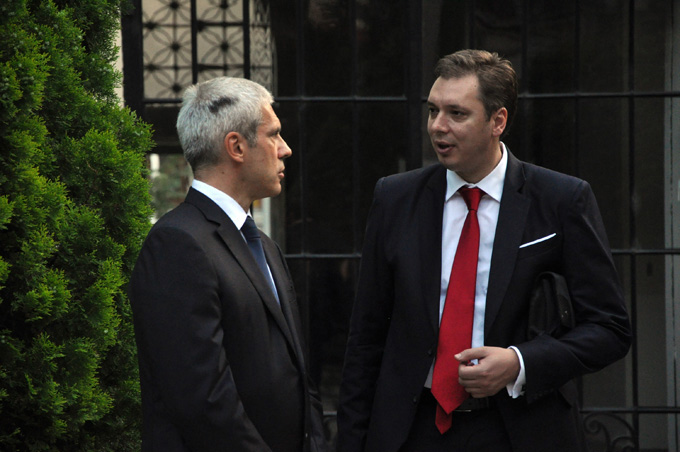 By Milos Mitrovic – Belgrade
The New Democratic Party's (NDS) recent move to enable the quorum at the Serbian Parliament session prompted the speculations on possible coalition between NDS and Progressives (SNS) after March 16 elections.
Members of the Parliament from NDS, Democratic Party (DS) breakaway group lead by the former Serbian president Boris Tadic, thus provided the immunity of Progressive MP to be abolished; Dragan Tomic has been arrested recently for the alleged corruption.
Political analysts consider NDS voting as a sign of the future cooperation between Tadic and SNS leader Aleksandar Vucic; according to polls, SNS will win more than 40 percents of the votes on March 16. Vucic is Deputy PM in the current cabinet lead by Ivica Dacic (Socialists).
However, both SNS and NDS denied the rumors and "secret deal" existence.
Nenad Konstantinovic, MP from NDS, told "Vecernje novosti"daily that the group he belongs does not support the current government and that there were no signs on future coalition.
"The immunity abolishment to MP who is suspected for stealing 80 million EUR from citizens is the issue of moral, rather than politics. Although some parties have tried to prevent the quorum to be formed, we have enabled it", Konstantinovic said adding that citizens "have to see the fulfillment of justice because all the scandals should be ended before the court".
The head of Progressives MP's also said that NDS voting support has not marked any deal.
"I recognized this only as the support to Aleksandar Vucic's zero tolerance policy in struggle against the corruption and crime", Zoran Babic emphasized.
Nevertheless, Democratic Party (DS) MP's head Borislav Stefanovic has not excluded the possible SNS-NDS coalition. "By enabling the quorum, they have shown their readiness to side with Vucic in the future", Stefanovic said alluding to DS former party colleagues.
Boris Tadic, former Serbian president who was also DS leader, left the party and created NDS with the number of supporters after he has failed to challenge the position of Democrats head Dragan Djilas in January. NDS has to collect 10,000 signatures in order to be registered as the political party. However, the group will participate in the elections as the civic association.