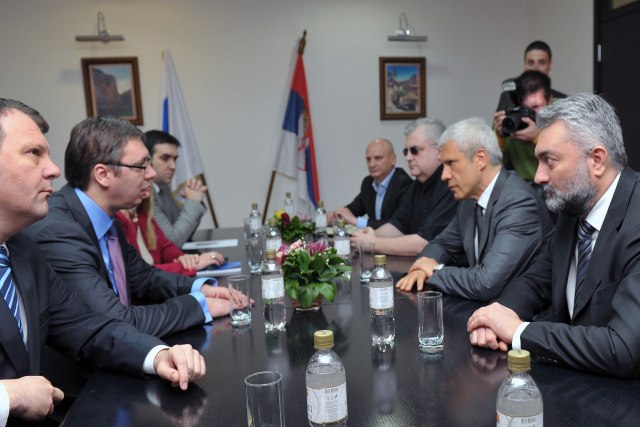 By Milos Mitrovic – Belgrade
Serbian Progressive Party (SNS) leader Aleksandar Vucic said that he and New Democratic Party (NDS) head Boris Tadic have achieved "the significant level of concordance" in their talks on future government on Thursday.
On Monday SNS – which has won landslide victory on March 16 elections – started talks on future government with the representatives of other parliamentary parties. According to Vecernje novosti daily, all the parties except the Democratic Party (DS), which is in strong opposition to SNS, would have "an opportunity to cooperate in the new ruling coalition, although not all of them would participate in the government".
Boris Tadic, former Serbian president and former DS leader who founded NDS on the eve of March elections after his split with Democrats head Dragan Djilas, said that his meeting with Vucic was productive. Tadic added that he and Vucic have "identified the key problems and challenges Serbia is faced with".
"We will continue the talks during weekend", Vucic who would apparently become new Prime Minister explained. Earlier this week Vucic also had a meeting with the outgoing PM, Socialist Party of Serbia (SPS) leader Ivica Dacic. Vucic is Deputy PM in the current government which was formed in 2012.
Vucic and Tadic have "profoundly discussed situation in Serbia and the plans for the country as well as the reforms needed in order fiscal consolidation and economy healing to be implemented", Vucic was quoted as saying by Tanjug news agency. "There is a need to tell the truth to people, whatever it is; we should not hide anything, but rather fight for the government as a serious team and everybody should safeguard the vital state and national interests regardless whether we are opposition or ruling party", Vucic emphasized. He said that Tadic has accepted this principles.
Vucic said that SNS would adopt its final position regarding the new government on Monday or Tuesday. In the meantime, SNS representatives will continue the talks with NDS, SPS and Alliance of Vojvodina Hungarians (SVM).