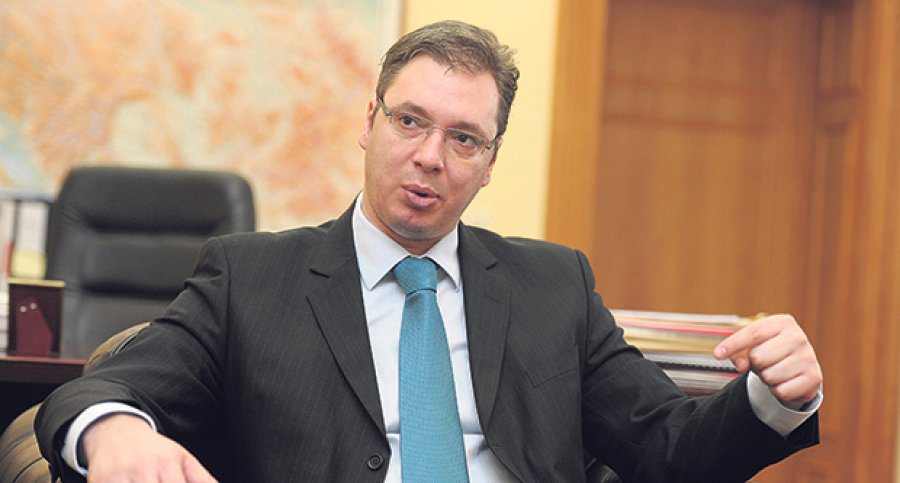 Belgrade, August 26, 2015/ Independent Balkan News Agency
By Milos Mitrovic
Western Balkans conference in Vienna would result with progress considering the refugees issue and European integration process, Serbian Prime Minister Aleksandar Vucic said in the interview for the Frankfurter Allgemeine Zeitung. The conference which starts tomorrow will be attended by the leaders of the region as well as top officials of Austria, Germany, France, Italy and the EU.
"Chancellor Angela Merkel plays the decisive role, she is the most important European leader and she is our hope", Vucic said.
Considering the Middle East refugees which are trying to reach Germany via South-European countries including Serbia, Vucic said that he did not demand money from the EU, but rather "comprehensive solution". The pan-European solution, as he said, should be found by the EU and non-member states, Vucic underlined.
When asked whether Serbia would be ready to accept refugees he replied positively adding country's "humanitarian and European" commitments. According to premier, Serbia is more willing to cope with the problem than some EU members.
"For instance, installing the barbwire in Hungary does not solve any problem. There are some politicians in my country who want similar fence on the border between Serbia and Macedonia. But I will never let it", Vucic stressed.
Vucic also said that Greece's approach to refugees is "problematic". "Greece which is the first EU entry for many people registers only 10 percents of the refugees while Serbia registers 90 percents", he explained.
When asked about Serbian asylum-seekers in Germany which are to be deported back, because they have not been persecuted in Serbia, Vucic explained that the most of them were Roma people which should be better integrated in Serbia.
"Roma people are not persecuted and they are leaving Serbia from economic reasons. Every refugee in Germany receives 580 EUR per month on average and they don't need any job. But in Serbia an average income is as low as 400 EUR", Vucic said suggesting Germany to cut incentives for refugees.
"If Germany reduces incentives to 200 EUR, the influx of the Balkans refugees would drop for 80 percents", Serbian PM said.