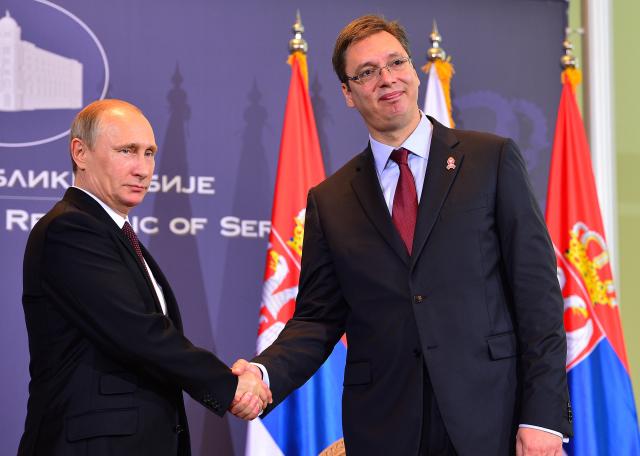 By Milos Mitrovic – Belgrade
Serbian Prime Minister Aleksandar Vucic said today that he will reach an agreement on Serbia's gas debt with the "Russian officials", adding that citizens should not be worried considering the upcoming winter. Earlier this week the government announced that Vucic and Russian President Vladimir Putin will discuss the issue in the days to come.
The media had previously reported that the russian gas giant Gazprom has reduced its gas delivery to Serbia by 28 percent due to delays in payment. The news appeared less than two weeks after Putin attended the military parade in Belgrade, stressing the strategic partnership between Russia and Serbia.
Amid international tensions over Ukraine, the Serbian foreign policy strives to maintain good relations with both the West and Russia. Belgrade officials repeatedly said that Serbia respects the territorial integrity of Ukraine, but stressed that it will not impose any sanctions against Russia. Analysts and officials expect the pressure on Serbia to increase from both sides especially, starting early 2015, when Belgrade takes the annual OSCE presidency.
"Serbia is not running from paying its debt for the Russian gas", Vucic said today.
He suggested that managing in Serbia's enterprises "is not ideal", probably alluding to public companies that deal with Gazprom. Vucic emphasised Serbia's capability to pay off half of the debt (100 million EUR) in the short term. But he explained that "it will be hard to pay off the whole debt until March", specifying this would affect the public debt, which must be reduced.
PM said that indicators of the Serbian budget for September were "excellent" and that he expects further improvements until the end of the year, mostly due to excise tax collection. Vucic revealed earlier that Serbia has recorded a budget surplus in October for the first time in years.
Negotiations with the IMF
Regarding Serbia-IMF negotiations, which have started today in Belgrade, Vucic underlined that the government's objective is to set the arrangement before the end of the year. He said that negotiations would not be simple and that Serbia needs the arrangement in order for next year to be "completely devoted to investments and development".
"I believe that we will reach an agreement with the IMF before Catholic Christmas; This is our intention and it would be big and good news for Serbia", the premier concluded.