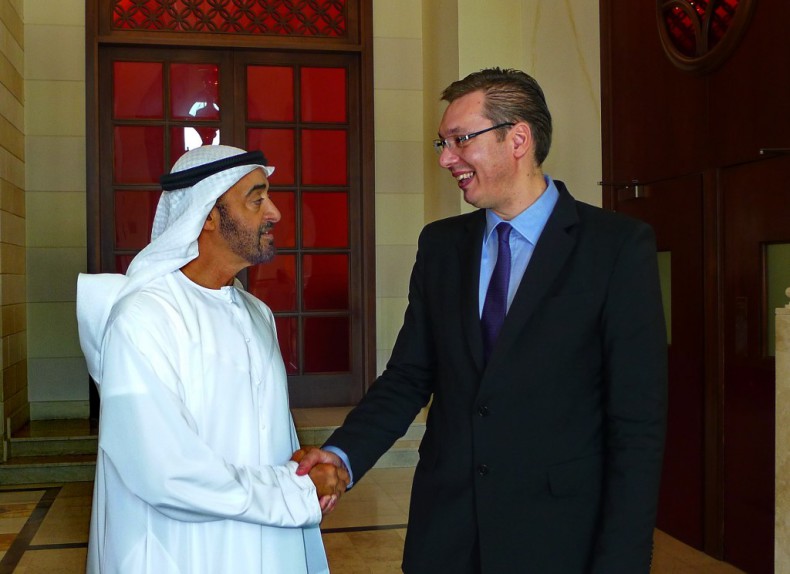 By Milos Mitrovic – Belgrade
United Arab Emirates have payed in Serbia one billion dollars loan that would help fostering country's liquidity problems, prime minister Aleksandar Vucic said on Thursday. The loan will be paid off at two percents interest rate for the next 10 years.
Vucic has also disclosed the contract between government and UAE "Etihad Airways" on former "JAT Airways" privatization. The contract was signed in July 2013, but "Etihad Airways", according to Serbian officials, has been opposing document to be revealed so far. UAE company invested 100 million dollars in the privatization, while Serbian government obliged to allocate 42 million, Vucic explained.
"Nobody could have ever dreamed" such a good contract, Vucic said explaining that "other countries were invested much more in their national air companies" during their privatizations. He assessed that "Air Serbia", the company founded following "JAT Airways" privatization, would gain one million euros profit in 2014 recalling that its fleet has been renewed and the average age of the planes reduced.
Prime minister said that all cabinets since 2003 have been faced with "JAT Airways" annual losses of around 35 million euros. He added, however, that the losses were "practically" even higher. "All cabinets were aware about both the scale of the problem and the risks over the transportation of the passengers", Vucic underlined.
He said that government has opted for partnership with "Etihad Airways" because UAE's company has been declared as world's top air carrier in 2013. For years, "Etihad Airways" was among three best ranked airlines along with "Turkish Airlines" and "Lufthansa", Vucic added. Thanks to the contract with "Etihad Airways", 10 aircraft would be purchased at 14 million euros lower than normal price, which saves a total of 140 million euros, he remarked. "We are glad that "Air Serbia" has better catering than "Lufthansa" and it will remain so," Vucic concluded.
Premier has also revealed agricultural land lease contracts with "Al Rawafed", another UAE company, specifying that total investment of 140,5 million euros was provided by Arab partners and that 20 percents share in newly established company remain in Serbian ownership.
Earlier this year Serbian government and UAE investors initiated Belgrade Waterfront construction project aimed at improving Belgrade's cityscape and economy. Around 2,5 to 2,8 billion euros are to be invested by the Serbian government and their UAE partners. Belgrade Waterfront includes an business and luxury apartment blocks, eight hotels, a shopping mall and a tower resembling Dubai's Burj Khalifa.
"Better conditions" needed from Gazprom
Serbia would not seek to terminate the contract with Russia's "Gazprom Neft" which became the majority owner of Petroleum Industry of Serbia (NIS) during  the previous Serbian government, Vucic stressed. At the same time, he promised that he would strive for "better conditions" for Serbia. Vucic said he was not satisfied with the profit based on Serbian oil and gas, specifying that mining rent in Serbia is three percent, while in Russia it stands at 32 percent.
Photo: Aleksandar Vucic and Mohammed bin Zayed bin Sultan Al Nahyan, the Crown Prince of Abu Dhabi