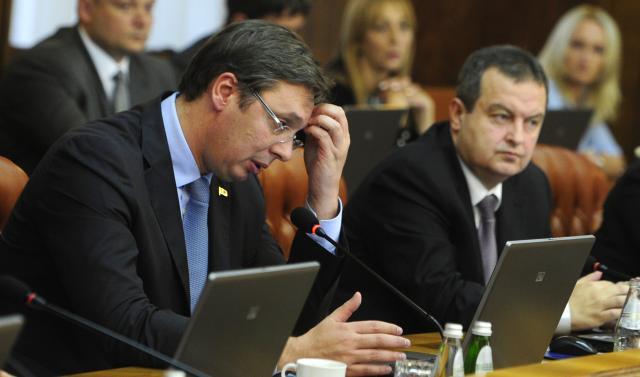 Belgrade, October 22, 2015/Independent Balkan News Agency
By Milos Mitrovic
UNESCO's Executive Council has recommended that Kosovo should become a member of this UN organization, but Serbia did not lose anything, Prime Minister Aleksandar Vucic said in Madrid today. "We have fought honestly for the interests of our country and gained a very big support", the premier underlined in an interview in the sidelines of  European Peoples Party convention.
"My advice to the citizens of Serbia, regardless how we find it hard, is that we should cheer up", Vucic said according to Radio-Television of Serbia.
"We did not lose anything at the Executive Council session yesterday; those who were in a hurry with it and who wanted to demonstrate they force and power have lost", Vucic said, adding that the support of a number of countries to Serbia came as a surprise to Pristina. He said he has expressed Serbia's gratitude to the countries who have opposed Pristina's bid, singling out Papua New Guinea which has gave up from co-sponsoring Kosovo's membership application.
At the UNESCO Executive Council session, Russia, Cuba and Indonesia have unsuccessfully tried to postpone the issue of Kosovo's membership application submitted by Albania and supported, among others, by the United States and Germany.
"We will continue our struggle at the UNESCO General Conference session", Vucic said alluding to November's meeting, which should result with the final decision considering Kosovo's membership bid.
"Nobody can take from us our Serbian churches and monasteries. Nobody can deprive us from the right on the future, for us to be better and more successful than all the others in the region", the PM emphasized.
He added that Serbia does not need campaign against FYROM and Montenegro who have voted in favour of Pristina. Vucic explained that these neighboring countries have recognized the independence of Kosovo.
"I am not happy for the decisions they made. I don't want to criticize them… But everybody should know that we will remember and respect those who have helped us", the Serbian PM concluded.