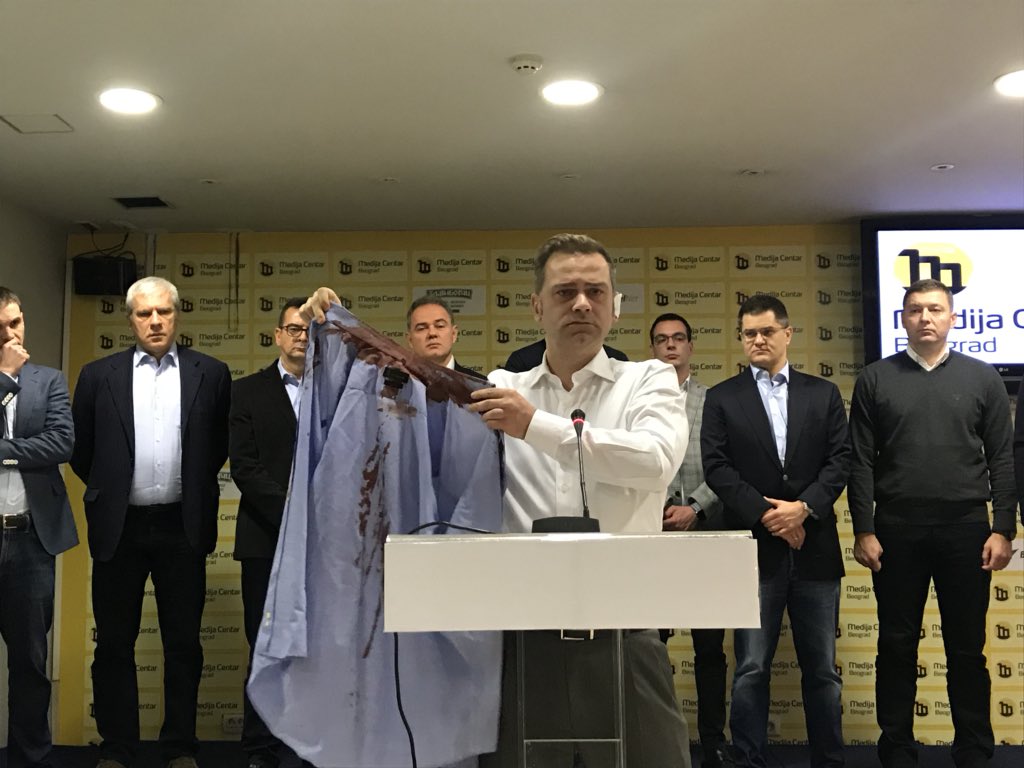 Serbian president Aleksandar Vucic is responsible for the beating of the opposition politician Borko Stefanovic, said today Dragan Djilas, leader of the Alliance for Serbia. Stefanovic, who leads the Serbian Left which is Alliance member, was beaten alongside two opposition activists, in the town of Krusevac on Friday.
Stefanovic, who got punched on the head, was severely injured. At the press conference on Saturday, he accused the government of an assassination attempt. The perpetrators have been immediately arrested; interior minister Nebojsa Stefanovic said that attackers are local criminals. Nebojsa Stefanovic as well as Vucic and other officials rebuffed the opposition claims that the government was involved in the assault.
Djilas insisted that Vucic was responsible "due to everything he says (about the opposition)". "The crime rate in the society is enormous. Those three men (who attacked Borko Stefanovic) did not do that spontaneously", he told N1 TV. Djilas claimed that the perpetrators had been instructed and waiting for Stefanovic in an ambush. He earlier said that Vucic has created a "gruesome atmosphere" in society, misusing media and calling opposition leaders "wretches, criminals and scamps".
"It is true, Vucic has condemned the beating that evening… But he is guilty because of what he says and because of the hatred and aggression he spreads against those who think in different way", Djilas said.
The opposition will organize a rally in Krusevac later this week. Djilas said that "fear rules" in this town in central Serbia. "There are not only three local criminals in Krusevac. There are dozens. The two of them have been arrested, but the rest are in the streets; the people are afraid", Djilas said.
Opposition leaders have claimed that the Security Information Agency was involved in the attack, recalling that Krusevac is the hometown of its director Bratislav Gasic. Those claims have been rebuffed by the representatives of the government./ΙΒΝΑ
Photo: Borko Stefanovic shows his shirt covered with blood at the press conference in Belgrade, November 24.