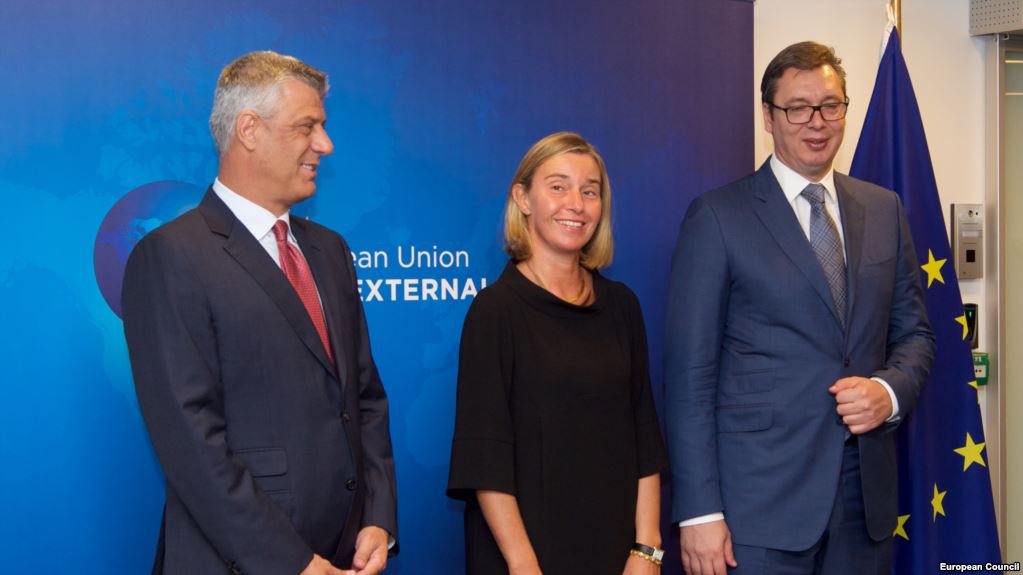 Serbian president Aleksandar Vucic has decided he will not talk to the representatives of Pristina in Brussels, today, state-owned media have revealed. In the meantime, Vucic had a meeting with European Union's high representative for Foreign policy Federica Mogherini, who is a mediator in the Belgrade-Pristina negotiations.
Present negotiations were supposed to continue today.
According to Radio-Television of Serbia, Vucic has ordered the "military, police and Security Information Agency to stop every communication with the police of Kosovo, KFOR and both the Albanian and international representatives who are present in the territory of the Autonomous Province of Kosovo".
Vucic was supposed to visit Kosovo tomorrow (Saturday, September 8). However, according to media sources, he has announced that he would decide if he will travel, later today. Earlier this week, Kosovo officials pointed out they could ban the visit.
Marko Djuric, director of the Office for Kosovo and Metohija and Vucic's close aide, said that "it is unknown when talks with Pristina will proceed".
Serbia's state leader has decided to cancel his meeting with the Kosovo representatives "due to all deceptions, threats and lies of the Kosovo Albanians", Djuric said.
Belgrade wants to preserve the peace, but it cannot accept attempts of threats and the banning of the Serbian president's visit, he added. Furthermore, he underlined that Serbia cannot accept alleged intentions of Kosovo's president Hasim Taci to present Presevo, Medvedja and Bujanovac – municipalities in the southern Serbia – as part of Kosovo.
"The only territory which should be (put on the table and be) discussed is the one of Kosovo and Metohija", Djuric noted, adding that Vucic will not give any statements until later this evening.
When asked whether Vucic is afraid that he could be arrested if he enters Kosovo, Djuric responded negatively. "If the president goes to Kosovo, he would certainly not be arrested. In case he goes, his rally should be attended by as many Kosovo Serbs as possible".
Earlier this year, Djuric himself had been arrested after entering the territory of Kosovo. The authorities in Pristina argued that his visit had not been okayed…. / IBNA
Main Photo (File): EU foreign policy chief Federica Mogherini (C), Kosovo President Hashim Thaci (L), and Serbia's head, Aleksandar Vucic, in a recent meeting in Brussels