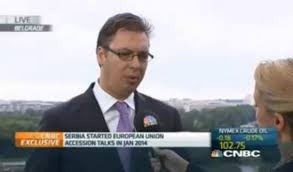 By Milos Mitrovic – Belgrade
Trying to push through reforms to boost competitiveness in the Balkans is "worse than hell", the prime minister of Serbia Aleksandar Vucic told US television CNBC, adding that the necessary measures have been delayed for what seems like "centuries". As Serbia sets its sights on EU membership, new privatization, bankruptcy and construction permit laws are set to be pushed through, Vucic said. He stressed that the lack of competitiveness is the "biggest problem".
"It is not an easy situation. We have been delaying all reforms, I dare say, for centuries, but actually it is decades, and now we have to do almost everything to create a better business environment", Vucic said.
"Whenever you try to do any kind of reform in the Balkans, it doesn't matter whether if it is Croatia, Bosnia or Serbia, it's going to be worse than hell – very difficult of course, but I am absolutely dedicated to that, absolutely determined and I have no doubt we will be very successful", he said.
CNBC reported that Serbia has kept interest rates on hold this month, keeping its main interest rate at 8.5 percent after cutting interest rates the previous two months in a row, as the record flooding that hit Serbia's has already weakened the economy.
The US television network stressed that "Serbia is at risk of falling into its third recession in five years after torrential rainfall caused severe flooding in the country devastating homes, businesses and land".
"Yes we are on the EU path, but we need to do a lot more to make it more attractive place for foreign investors from Western society and we are capable of doing that", Vucic said. Speaking on the country's close ties with Russia, the PM said Serbia is on a "very clear EU path".
"That is what I said to Putin two days ago, we respect our friends from Russia, we have a very good co-operation and collaboration, but our main orientation, our goal is to be a part of the EU. That is quite normal and very rational and dare say very reasonable", he added.