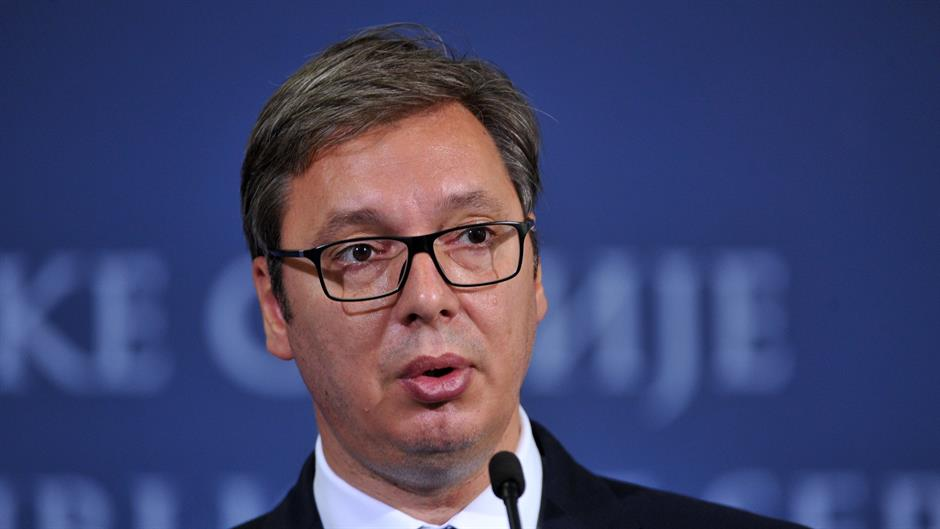 Serbian president Aleksandar Vucic has said that he is ready both to hear to what the "dissatisfied citizens" who organize protests on the streets have to say and to "succumb to their pressure"; he added, however, that he would not "succumb" to the pressures of the "liars from the opposition". In an interview, Vucic alleged that he can "change the things that are wrong". "But if citizens believe that this is not possible, we may have elections".
So far, three protest gatherings have been organized in Belgrade, starting from Saturday December 8, and continuing on next Saturdays. The new protest is scheduled for Saturday, December 29. The demonstrations started as a reaction on the beating of one of the opposition leaders Borko Stefanovic and two more activists.
The protesters also deprecate the growing authoritarianism in the country, as well as media manipulations and the attacks against journalists.
One of those who spoke at the latest protest was journalist Milan Jovanovic, whose house was burned earlier this month. In the meantime, the persons with criminal record suspected for attack against Stefanovic have been released from prison, as well as the one investigated over the burning of Jovanovic's house.
"I am ready to listen to the people. They can tell me what is wrong and we can change or fix that. But if they think that this is not possible, and if they are the majority, I am ready for elections at any moment. I accept – you will have elections".
Since Vucic and his Serbian Progressive Party (SNS) came to power in 2012, early general elections have been organized twice – in 2014 and 2016. In both cases the SNS had the majority in parliament and there were no formal reasons for calling elections. Among opposition parties, the voices in favor of boycotting possible elections are growing, due to their assumption that the process would be fraudulent and rigged.
In the recent local elections in several municipalities, SNS won overwhelming majority amid claims of opposition and NGO's that the voting conditions were irregular.
There are only a few municipalities in Serbia where parties other than SNS have the majority in local assemblies. The leaders of these municipalities, such as Sabac, are faced with pressures and threats on a daily basis. Head of Sabac municipality, Nebojsa Zelenovic, testified about this before the Council of Europe last month.
In the interview, Vucic said that "opposition" can only "dream" that he would accept their demands, trying to make distinction between his rivals and the "people".
Vucic continues to downgrade the number of protesters in Belgrade. According to organizers, as well as western and Russian media there were 45,000 people in the streets last Saturday; at the same time, interior minister and Vucic's close aide Nebojsa Stefanovic claimed at the press conference that there were only 5,000. The media which are pro-government – and most of the media are pro-government – alleged that only a few persons attended the first rally on December 8. Such accounts were main formal reasons for calling the second rally under the slogan "Let's count us"./ΙΒΝΑ