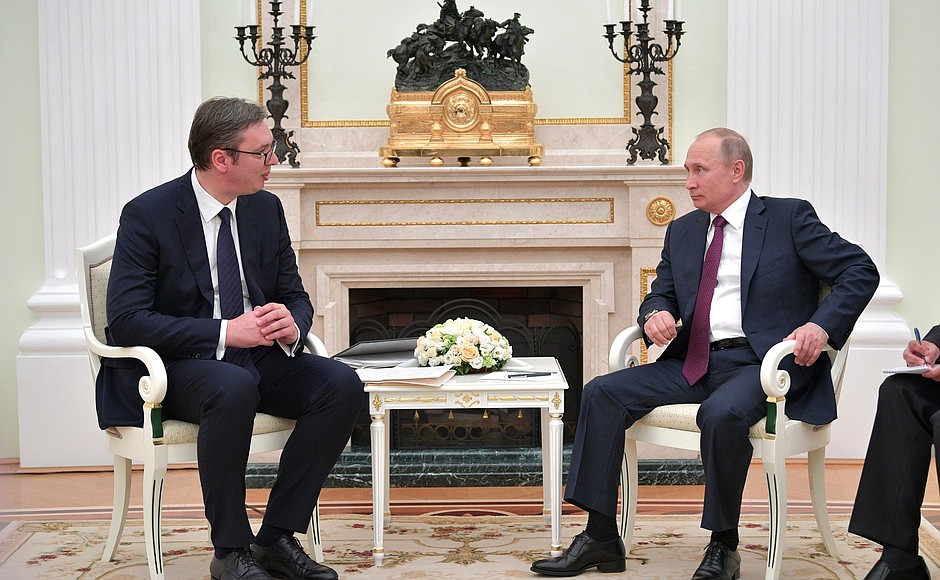 The Kosovo issue solution is still "very far away", president Aleksandar Vucic told his Russian counterpart Vladimir Putin in Moscow today. The Serbian president, who is on an official two-day visit to the Russian Federation, reassured his Russian counterpart that Serbia remains dedicated to preserving its military neutrality, Sputnik news agency reported.
Putin has announced that he and his guest would discuss their bilateral economic co-operation as well as the ongoing political situation in the Western Balkans.
At the beginning of the meeting, "and before his tete-a-tete talk with the Russian president", according to Sputnik, Vucic thanked the Russian head of state for the "positions he expresses with regard to the issues which are of vital importance to Serbia".
"As you know, the situation in the Balkans is very complex. Serbia is faced with numerous provocations on a daily basis. But, regardless of this, we strive to reach a compromise (with Pristina) and preserve peace and stability. However, we are very far away from a solution over Kosovo and Metohija", Vucic told Putin.
He reiterated that "as a free and independent country", Serbia "will preserve its military neutrality". "I believe that Serbia is the only state in the Western Balkans with such an ambition", the Serbian president added.
"With reference to our economic ties, you have correctly said that our trade exchange grows", he told Putin and grasped the opportunity to invite him to visit Belgrade again. Putin has visited Serbia twice so far: in 2011, and 2014.
Since Vucic came to power in 2012, he has met Putin 14 times.
Today, Putin highlighted the "evident growth of Russian investments in Serbia"; "it has reached four billion dollars", he added. It had been announced that after their private get together, Vucic would hold a presser…. / IBNA