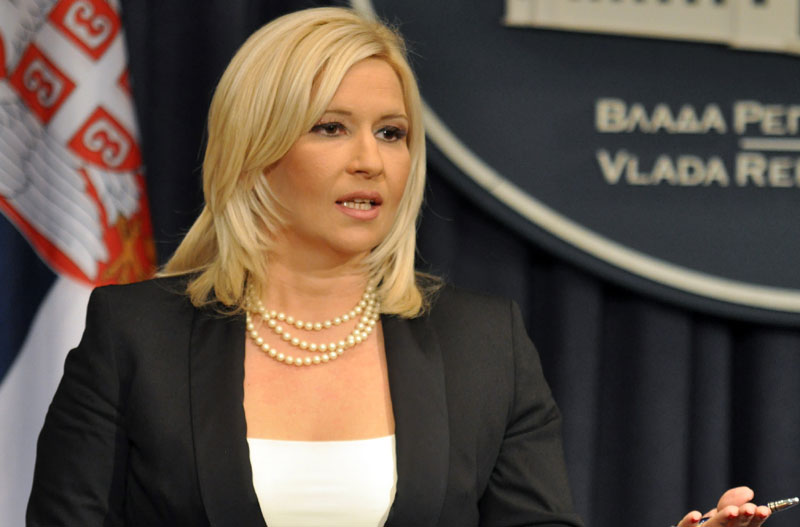 Belgrade, May 29, 2015/ Independent Balkan News Agency
By Milos Mitrovic
Serbian Transport and Infrastructure Minister Zorana Mihajlovic and United States Ambassador Michael Kirby have signed the agreement that will enable reintroducing direct flights between Serbia and America after 23 years. At the same time, ahead to his next week's visit to Washington, Prime Minister Aleksandar Vucic said he expects that trip would be successful and "certainly very important" for Serbia.
At the press conference after the agreement was signed, Vucic said that the agenda of his visit is very tight "and gets tighter every minute". Premier explained he will meet the representatives of "enormous number" of American companies which invest in Serbia or plan to invest. He will also meet Vice-President Joe Biden.
Vucic said that Biden "is highest level we can reach".
Flights agreement, as he said, was an important signal for Serbia for it changes the position of Serbia in both Europe and the world. "Because you don't have direct flights for America from anywhere in the region", PM went on. He added that he "hopes" passengers from the region would fly to U.S. from Belgrade.
Vucic stressed that government is thankful to America for demonstrated confidence in Serbia and expressed his assurance that Belgrade airport and national carrier would be a reliable partner. "There will be no any problems from our side at any time because the highest professional standards will always be applied".
According to Vucic, first direct flights from Belgrade to U.S. could be expected "by the end of this year or in early 2016". Earlier statements suggested that flights from Belgrade to Chicago could be introduced, but Vucic said that Air Serbia analysis has showed that flights to New York would attract more passengers.
Vucic thanked Ambassador Kirby for his personal contribution to the agreement, calling him "great and true friend of Serbia".
Kirby said that Vice-President Biden has praised Serbian efforts in the region, including Vucic's visit to Tirana earlier this week.