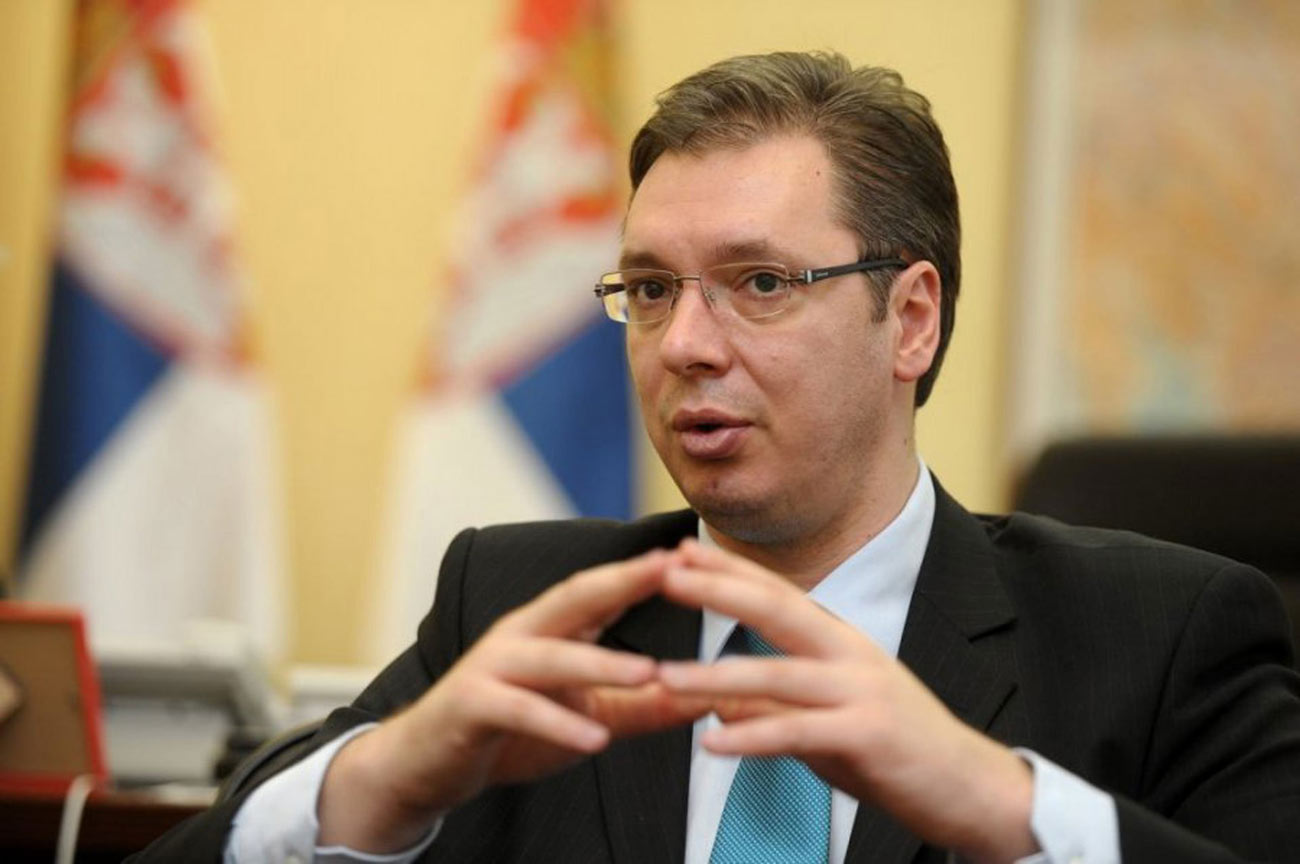 Belgrade, June 14, 2016/Independent Balkan News Agency
By Milos Mitrovic
"After forming the new government I will go to Brussels, and I will not go to the United States at all. There will be a time for that", acting Prime Minister Aleksandar Vucic said at a press conference today, confirming the news that he has canceled his visits to European Union's capital and Washington on June 21 and 23 respectively.
Speaking on his urgent yesterday's meeting with U.S. and EU top diplomats in Serbia, called on their demand, Vucic said they had treated him "with respect".
"These men treated me with lot of respect. We had different positions on certain issues, and I'm proud of that because I have showed that I care about the citizens rather than myself. We continue to cooperate. It is my job to cooperate with both in a professional manner", Vucic said commenting his meeting with U. S. ambassador Kyle R. Scott and EU Delegation in Serbia head Michael Davenport.
The PM added that canceling his visit to Washington, where he was supposed to meet State Department high officials, would not "jeopardize the position of Serbia".
"People in Serbia know that I am responsible and that I will not jeopardize the position of Serbia. I have showed seriousness and responsibility for we should have good relations with the EU, the U.S., Russia and China… don't worry about Serbia, Serbia is in a good path. Serbia takes care on its dignity and pride while rags and doormats are not respected by anyone and I don't belong to them. I don't respond to threats, pressure and telephone calls", Vucic underlined.
Considering earlier announcements that the government would be formed until June 16, the premier said he cannot "manage" to do so. "I cannot manage because on June 17 a Chinese delegation will come to Serbia and we have to sign 20 agreements".
Chinese President Xi Jinping will visit Serbia on Friday. Some Serbian pro-government media speculated that the EU was opposed to strengthening Serbia's relations with China. However, it's obvious that tensions between Vucic, on one side,  and EU and U.S. top diplomats in Serbia on the other, are created by pro-government's media claims that Brussels and Washington intend to "overthrow" the PM.
Scott and Davenport refrained from giving comments.
"This is probably my last prime-ministerial term and I want to do this job properly in order Serbia to have progress in economy and to become a decent country", Vucic said at press conference.