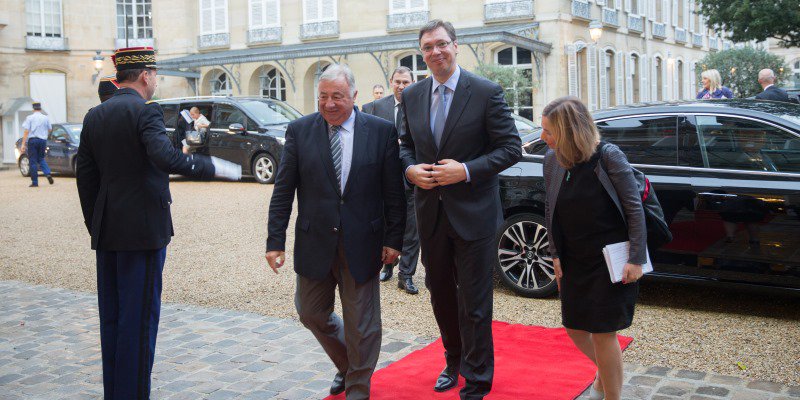 Belgrade, September 15, 2016/Independent Balkan News Agency
By Milos Mitrovic
The migrant crisis is not behind us, but in front of us – Serbian prime minister Aleksandar Vucic said after meeting with his French counterpart Manuel Valls in Paris today. At the press conference, Vucic said that Serbia is faced with two problems: stability in the Western Balkans and migrant crisis.
"At this moment we have 7,000 people who are stuck… in Bulgaria, they do not have where to go and this becomes bigger and bigger problem", Vucic stressed.
According to Serbian premier, "walls and fences are not needed", nor are they "good solution for anybody". However, Serbia "should not be put in a situation to say not one migrant more" can enter its territory, Vucic added.
"EU should resolve this in its borders. Serbia cannot be the first and the last defense of Europe. Somebody has to find the solution for it on the borders of Greece and Bulgaria which are EU member states", the PM emphasized.
Serbian government said in its written statement that Manuel Valls has congratulated Vucic for "brilliant results achieved at the last elections". Valls reportedly said that Vucic has received a clear popular mandate to conduct the policy he had promoted during his previous term.
Bilateral relations between Serbia and France should be improved, especially in economy, the French premier underlined. "France supports Serbia in its European path and it wants to take part in its economic progress", Valls said.
Vucic claimed that Serbian economy "is now strong" and "informed his French counterpart on economic reforms that have been applied in Serbia in the last two years", according to the Serbian government's press release. He reiterated that his "greatest concern is the destabilization of the Balkans", rather than the growth of Serbian economy.
In that sense, Vucic stressed that the role of France in the Western Balkans and its support to Serbia-EU accession process "is very important". He invited both Valls and French president Francois Hollande to visit Serbia soon.
Photo: Aleksandar Vucic in Paris, photo @SerbianGov