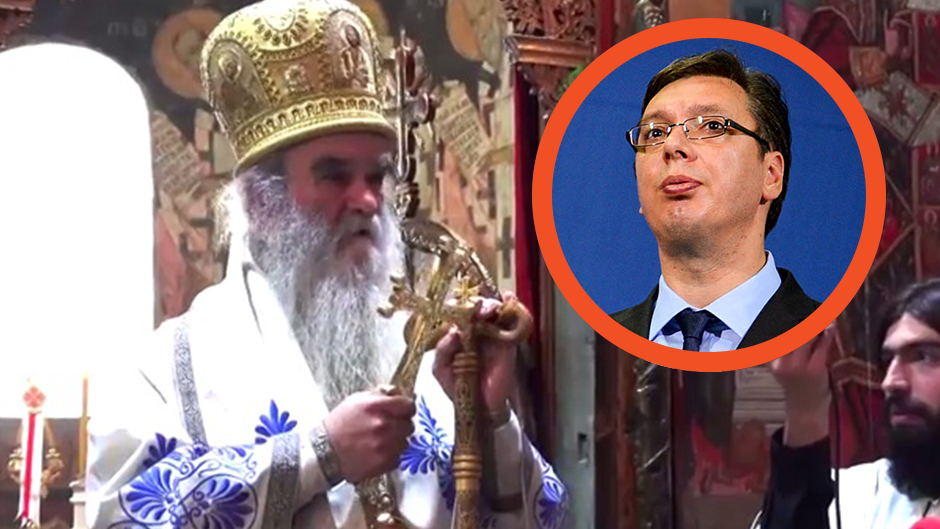 Serbian president Aleksandar Vucic, according to his own words, was offended by the "betrayer" statement of bishop Amfilohije, while the reaction of Patriarch Irinej, who defended the head of state against criticisms, almost made him cry. Both dignitaries of the Serbian Orthodox Church (SPC) gave their statements on Vucic earlier in January.
Bishop Amfilohije has said that Vucic's politicy leads to the "betrayal of Kosovo and Metohija" – to the legal separation of the territory from Serbia. Late on Sunday (Jan. 14), Vucic said that the bishop's words offended him very much, adding, however, that he would not respond to his claims because he would not like to say anything bad about SPC that would "divide the people".
Shortly after Amfilohije's statement, Patriarch Irinej praised God "because he has blessed Serbia by sending a man like Vucic". "Vucic fights like a lion to keep Kosovo and Metohija as part of Serbia", Irinej said after numerous state officials condemned Amfilohije over his "betrayal" of claim.
According to Vucic, the Patriach reacted to Amfilohije's statement in the best possible way, adding that he was thankful to Irinej. "He almost made me cry", Vucic said, describing how touched he was by the Patriarch's words. "I do not want to hide at all how touched I was by his words", the president said in an interview with the Radio-Television of Serbia.
Vucic has also criticised the initiative "The appeal for the defence of Kosovo and Metohija" which was launched by bishop Amfilohije. "The greatest patriots who have helped Montenegro to secede from Serbia and who have contributed to Kosovo's declaration of independence and subsequently to its recognition (as an independent state) by numerous countries stand behind that initiative", Vucic said ironically.
The president suggested that he is a hero which protects Serbs in Kosovo. "The hero is the one who protects Serbs in Kosovo", Vucic said, defending his approach on the Kosovo issue, which was criticised and recognised as a "betrayal" by bishop Amfilohije and other signatories of the Appeal…/IBNA
Photo: Mario Milojevic / MONDO