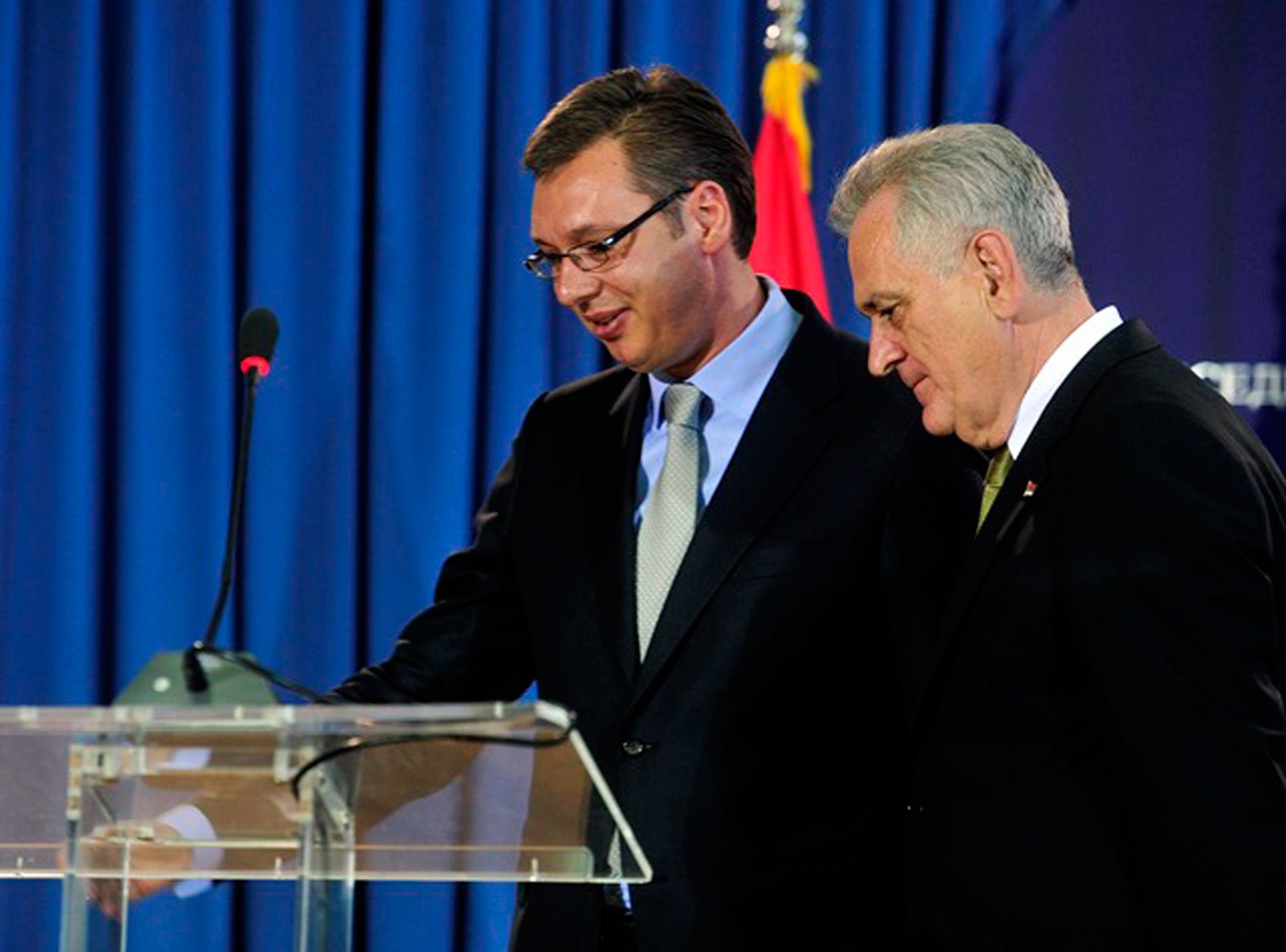 By Milos Mitrovic – Belgrade
Serbian ruling Progressive Party (SNS) celebrated today its sixth anniversary. The group was founded in 2008 by the former high officials of ultra-nationalistic Serbian Radical Party – Tomislav Nikolic and Aleksandar Vucic. In 2012 Nikolic became Serbia's president and in April this year Vucic, current SNS leader, formed his government.
Vucic said today that SNS has "policy for the future, for the next five, ten and fifteen years". Regarding the austerity measures, Vucic said he understands the remarks of those who oppose it, adding however, that such policy is necessary in order for Serbia to become "a decent, normal and successful country", Tanjug news agency reported.
Vucic said that the party's jubilee has been celebrated "in the most modest manner, because it's not time for celebrations and parades". Nonetheless, he added that in 2016 the jubilee may be marked in different way.
"We are faced with a difficult situation and we have a burden we are not responsible for", Vucic said alluding to previous governments. Vucic often accuses Democratic Party, which is now in opposition, for "devastating" the country.
But during his extremist days in Radical party from 1993 to 2008 Vucic has been striving for "Greater Serbia", which would encompass FYROM, Montenegro, Bosnia and Herzegovina and the major parts of Croatia. He has been supporting indicted war criminals, Ratko Mladic among others, and opposing the idea that Serbia should join the EU. During Slobodan Milosevic autocratic rule Vucic was Information minister (1998-2000) implementing draconian law against independent media.
In 2008, however, Vucic and Nikolic have made a U-turn becoming the leaders of Serbia's EU integration – at any price critics say mostly alluding to giving up Kosovo – which is according to the Constitution an integral part of Serbia.
Vucic today praised the politics of his cabinet underlining that "Serbia for the first time has taken tough measures, which bring results".
Former SNS head Nikolic, who also attended the celebration, said that "SNS is the best in Serbia".  "From my point of view all citizens are equal, but all parties are not – SNS is the party I like the most", the president of Serbia said. When asked if he will miss the SNS – he has left it in 2012 when he became president – Nikolic said that the answer would be the same as if he had been asked whether he will miss bread or water.
Photo: www.oslobodjenje.ba