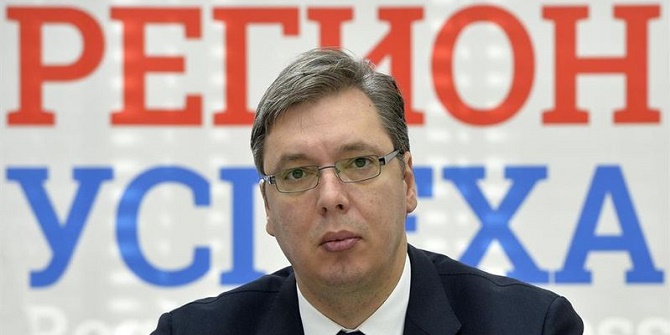 Predsednik Srbije i Srpske napredne stranke Aleksandar Vučić navodno je odlučio da raspiše vanredne parlamentarne izbore. Provladin tabloid Alo! navodi da će izbori biti održani u nedelju 31. marta.
Kako se u tekstu navodi, Vučić se sastao sa pet ljudi iz najužeg rukovodstva SNS-a, kada je ta odluka doneta. Nije precizirano kada je taj sastanak organizovan.
Spekuklacije, ali i tvrdnje zvaničnika da bi vanredni izbori mogli biti raspisani intenzivirani su sredinom decembra, kada su u Beogradu počeli građanski protesti zbog prebijanja Borka Stefanovića.
Stefanović je lider Levice Srbije koja je član opozicione koalicije Savez za Srbiju (SZS). Proteste koji se održavaju subotom organizuje grupa građana, dok joj SZS navodno pruža samo logističku podršku.
Vučić je u danas objavljenom intervjuu za sajt espresso.rs ponovio je da neće da "podleže političkim pritiscima", ali da je spreman da raspiše izbore.
"A šta ćete demokratskije i lepše? A šta biste? Da upadate, ubijate i na silu uzimate vlast zato što vas narod neće i zato što na izborima ne možete da dobijete? E pa, to ne može više", rekao je Vučić.
On je ponovo doveo u pitanje broj ljudi koji se okuplja na protestima, dodavši da je spreman da izbore raspiše koliko god se ljudi okupljalo.
Na pitanje da li bi najavljeni protest za 15. januar, dan pre dolaska ruskog predsednika Vladimira Putina u Beograd, mogao da bude zabranjen, kaže da se to neće desiti.
"Zašto da bude zabranjen? Mislite zbog veličine skupa? Što da bude zabranjen?", upitao je Vučić i dodao da nikada u Srbiji ništa nije bilo zabranjeno i da svi slobodno mogu da šetaju./IBNA