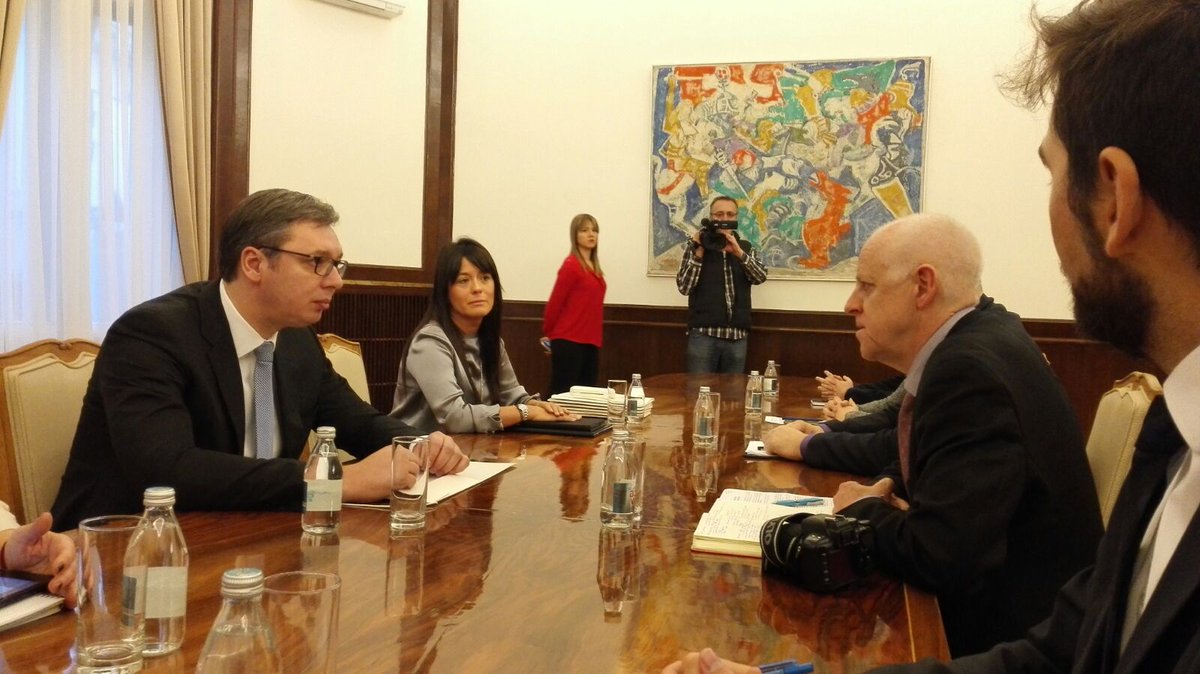 The position of Serbian president on media should be changed, Mogens Blicher Bjerregård, president of the European Federation of Journalists (EFJ) said after meeting with Aleksandar Vucic in Belgrade today.
Vucic should change his rhetoric, stop stigmatizing media as "foreign agents" and protect journalism and free media, Bjerregård said.
"Unfortunately, we are witnessing many pressures and threats against Serbian journalists", Bjerregård told N1 television, adding that the number of incidents against media is "only getting higher". Bjerregård quoted the report of the Council of Europe; according to that document, he recalled, there are many examples of repression against Serbian journalists as well as of deprivation of their rights. "This should be changed until it is too late", Bjerregård underlined.
At the same time, Bjerregård said he was "satisfied" because Vucic wanted to talk with him and the EFJ delegation on media freedom in Serbia.
"It is very important for the president to be consistent and firm in his position on journalism and media freedom; he must support that. He must not put into question anything about it. There is no "but". You simply have to support media freedom",  Bjerregård said alluding to Vucic and Serbian government.
He also said that the cases of physical attack should be resolved as priorities "because if there is impunity, a new wave of violence will occur".
Bjerregård also reacted on Serbian prime minister Ana Brnabic's statement according to which "there are no pressures against journalists in Serbia". "I disagree… one can just check at the Council of Europe's website and see all the examples of assaults against journalists as well as pressure and hatred against them", he said.
Bjerregård concluded that the media freedom situation in Serbia is getting even worse.
At the meeting with Bjerregård, Vucic said that "in Serbia everybody has the right to write and way everything". "But everybody has the right to respond. I will not deprive anyone including myself of the right to respond", Vucic told Bjerregård./IBNA
PHOTO: Aleksandar Vucic and Mogens Blicher Bjerregård in Belgrade today