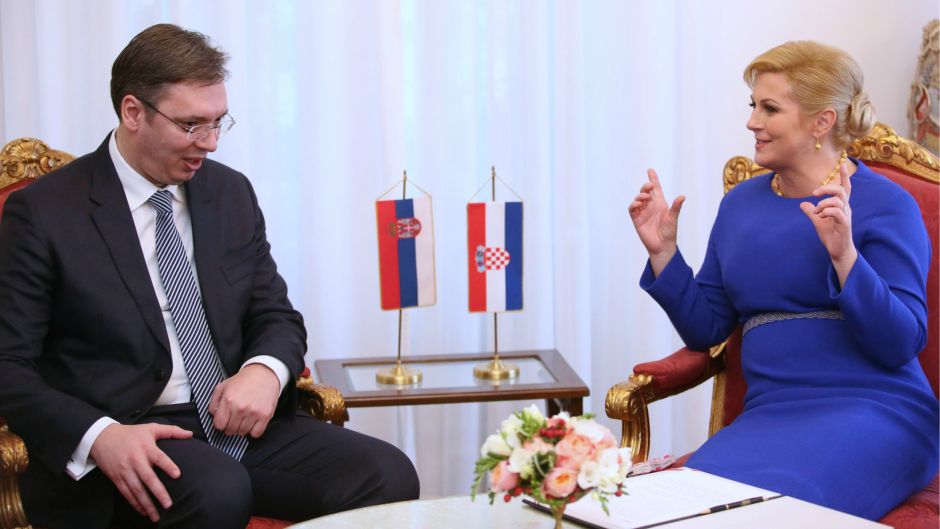 Serbian President Aleksandar Vucic met in Belgrade on Friday with Croatian President Kolinda Grabar-Kitarovic.
Grabar-Kitarovic arrived here as one of the guests at the ceremony on the occasion of the inauguration of Vucic as head of state.
Vucic and Grabar-Kitarovic spoke privately, and the Serbian president revealed later that he believes relations between the two countries and two nations can be "corrected in some way" by the end of the year.
Vucic told reporters that he and his Croatian counterpart spoke about "concrete problems," and that he was "very pleased with the meeting."
He added that he would soon travel to Dubrovnik in Croatia, where their conversation would continue.
"And so as not to rush, it's not easy, there's much that burdens our relations, but I believe that in the next six months, that is, by the end of the year, we can achieve significant results, which would have meaning for Serbs in Croatia, Croats in Serbia, which would mean some kind of correction of bilateral relations between Serbia and Croatia, but also in general, between Serbs and Croats," Vucic said briefly to journalists after the meeting.
Ahead of the meeting he welcome Grabar-Kitarovic, who "warmly congratulated him on the election as president of Serbia and wished him great success" adding that she hoped this would benefit the two nations and the two countries.
Vucic thanked her for attending the ceremony of his inauguration.
Grabar-Kitarovic is visiting Belgrade for the first time. Prior to the visit, she stated that this is would be an opportunity to make a strong step forward in relations between the two countries.
According to the Croatian media, Grabar-Kitarovic and Vucic have "a good" relationship.
Before the meeting, Grabar-Kitarovic said she would talk with her Serbian counterpart about security, but also "other important issues."
Vucic today held a series of bilateral meetings: with Slovenian President Borut Pahor, Bosnia-Herzegovina Presidency members Mladen Ivanic and Bakir Izetbegovic, Gabonese PM Emmanuel Issoze-Ngondet, Russian Deputy PM Dmitry Rogozin, Ji Bingxuan, Vice Chairman of the Standing Committee of the Chinese National People's Congress, Georgian FMs Mikheil Janelidze and Belarus Trade Minister Vladimir Koltovich./IBNA
Source: B92