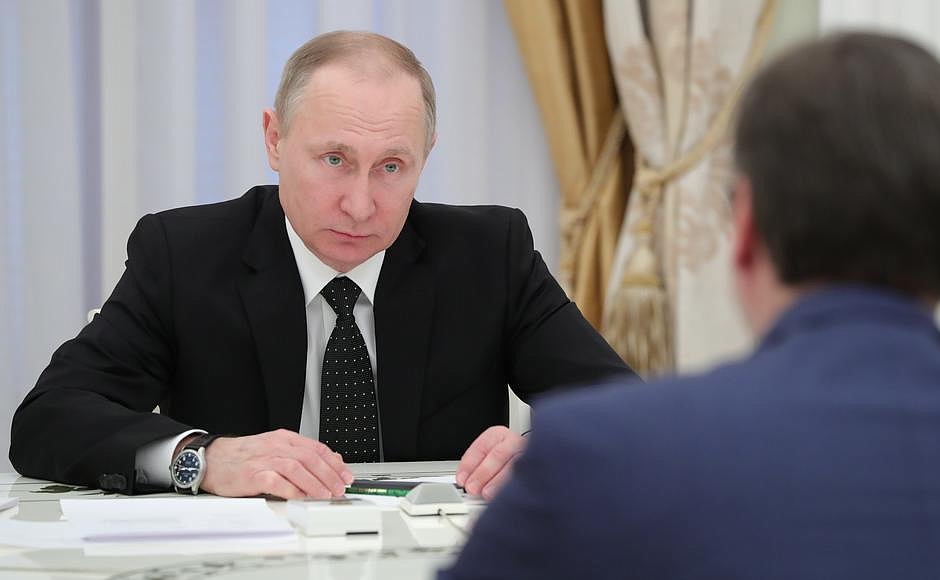 Russian president Vladimir Putin said that he was hoping relations between Russia and Serbia would develop "positively, in the spirit of friendship as it was the case until now". After meeting with Serbian prime minister Aleksandar Vucic in Kremlin today, Putin said that he expects such development "regardless of the further political situation". Vucic, who runs in the upcoming presidential elections, said that he was hoping that Putin would soon sign "a decree on armaments" for Serbia.
Putin expressed hope that the elections in Serbia would be "at the highest level" and wished success to "current government", Sputnik news agency reported.
The bilateral cooperation in the domains of economy and trade has been improved, although slightly, by the joint efforts of the two sides, Putin said. "These results have been achieved thanking to the increase of Serbian exports to Russia", Russian leader stressed adding that the highest growth was achieved in Serbian agricultural product exports- around 40 percent.
Putin also noticed that the regional situation in the Balkans "escalates to some extent".
Vucic thanked Putin, speaking in Russian, for his personal and Russian support to Serbian territorial integrity. Serbian PM and presidential hopeful said that he was expecting Putin would sign a decree on transporting Russian armaments to Serbia "as soon as possible".
"Putin said that he has personally approved all I have discussed with Sergey Shoygu with regards to 30 armored vehicles, 30 tanks T-72 and six MiG-29 ", Vucic said alluding to his discussion with the Russian defense minister with whom he has met in Moscow in the end of 2016.
At the time Vucic had announced that the agreement between Russia and Serbia would be signed, but this did not occur so far, N1 television recalls. Russian ambassador in Serbia Alexandar Chepurin said today that the timing for the armaments delivery is a "technical question"./IBNA