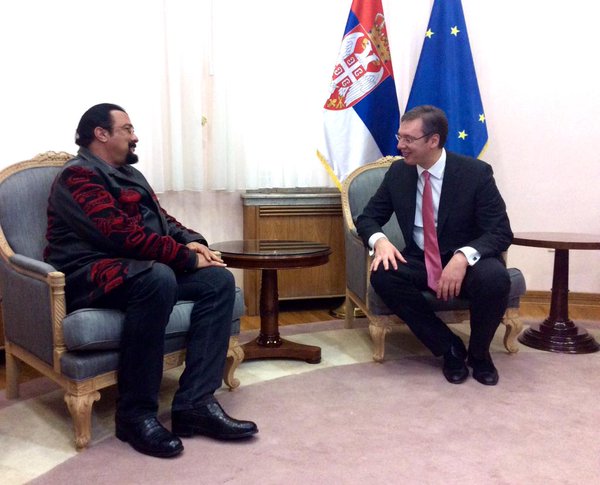 Belgrade, December 1, 2015/Independent Balkan News Agency
By Milos Mitrovic
The partnership with Washington has paramount importance for Serbia, Prime Minister Aleksandar Vucic said at the meeting with US ambassador Michael D. Kirby in Belgrade today. Vucic said this a day after he admitted in TV show that he could hardly say that Kirby is his friend, explaining, however, that American diplomat "is a friend of Serbia". He also said that he has "professional cooperation" with Michael Davenport, European Union Delegation head, adding that "nothing else" could be said.
On Monday, the premier appeared on national TV studio amid claims by his aides and media close to his party that certain circles in Serbia, including foreign embassies, were preparing a coup against him. Vucic explained that there were activities of "undermining" the government rather than coup attempts.
The presence of US Secretary of State John Kerry at the OSCE conference in Belgrade later this week would strengthen the relations between Serbia and Washington, Kirby said today. In November Kirby repeatedly said that US has no intention nor interest to "overthrow" the Serbian government.
On Monday, Defense Minister Bratislav Gasic said that Vucic is, according to the assessments of security services, the most vulnerable person in Serbia. Gasic accused "political-criminal-tycoon-media actors" for conspiring against Vucic.
Dragan J. Vucicevic, editor in chief of tabloid Informer, was one of the loudest voices which have claimed that coup against Vucic has been prepared. Vucicevic accused rival tabloid Kurir, foreign intelligence services and some members of Vucic's cabinet for conspiracy. While ministers have expressed their loyalty to Vucic, PM said that, in his opinion, Vucicevic "is an honest journalist".
But Vucic said he does not feel vulnerable.
Former policeman was arrested because of spying Vucic's family home, Interior Minister Nebojsa Stefanovic said on Sunday. Stefanovic revealed this at the media conference accompanied by armed policemen.
Vucic and President Tomislav Nikolic met American actor and producer Steven Seagal in Belgrade today. During his stay in Belgrade, Seagal will hold a training with the special police forces of Serbia.