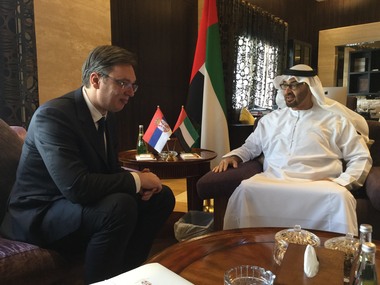 Bilateral cooperation, "a number of mutual projects" as well as international relations and Western Balkans situations were the issues discussed by prime minister Aleksandar Vucic and Mohammed bin Zayed bin Sultan Al-Nahyan, the Crown Prince of Abu Dhabi, according to Vucic cabinet's press release.
At the meeting in Abu Dhabi, Vucic and Bin Zayed have stated that the relations between Serbia and United Arab Emirates are "sincerely friendly" adding that their intension is to improve overall links, especially in the field of economy.
Vucic thanked Bin Zayed for UAE's "financial support" to Serbia, stressing that projects in agriculture, food industry, energy and transportation have been implemented. Vucic's "particular gratitude" to Bin Zayed, as he said, goes for Belgrade Waterfront project, monumental and divisive enterprise. While Vucic once again underlined that project would heal real estate industry in Serbia, create jobs and produce profit from tourism, critics label it as megalomaniac idea and pyramid scheme.
PM confirmed his attendance at the International Defense Exhibition and Conference (IDEX 2017) in Abu Dhabi in February. In his words, Serbia will present there the achievements of its military industry.
Bin Zayed stressed that he "very much respects" the results Serbia has achieved in economy, promising that UAE would be its "responsible and honest" partner. He accepted Vucic's invitation to visit Serbia once again./IBNA