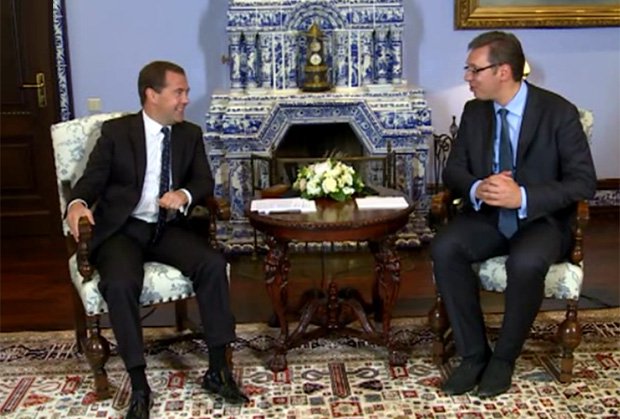 By Milos Mitrovic – Belgrade
Serbia wants to become European Union member state without harming its relations with Russia, Prime Minister Aleksandar Vucic said today in Moscow after talks he has had with his Russian counterpart Dmitry Medvedev. He added that "Russia has expressed the full understanding for all Serbian positions".
Russian Prime Minister Medvedev underlined that all projects in energy sector between the two countries are performing well and that "South Stream" gas pipeline constructing is the priority. "South Stream" should not be politicized, he added.
"I have never hide that Serbia wants to become the part of the EU, but it doesn't want to harm good, best friendly relations with Russia in a difficult moment", Vucic said at the media conference in Moscow.
Medvedev announced that Moscow and Belgrade would "soon" sign the agreement on "South Stream". The project which "is useful for both countries" would, in his opinion, upgrade to higher level the relations between Serbia and Russia.
Considering "South Stream" Vucic said that Serbia has had "four appeals" (to Russia) and that Russia has accepted them with technical details to be resolved.
Regarding the modernization of Serbian railways Vucic said that Serbia has "created the problems that will have to solve on its own". However, Russian premier said that "this is another project that will demonstrate good relations between the two countries and strengthen the power of Serbian exports".
Russia has provided 800 million EUR loan for the reconstruction of Serbian railways. Last week Vucic said that that part of the funding has already been collected. "We still don't know how to spend the part of it, this is our well known blemish. We will discuss it", Vucic has said.
Both Medvedev and Vucic said that trade exchange between Serbia and Russia is good with the increases of 15 percent in 2013 and 9 percents in the first quarter of 2014. They have also discussed the possibility free trade zone that exists in bilateral level to be extended on the exports of certain Serbian products.
Regarding the Ukraine crisis, Vucic has expressed his hope for the peaceful resolution. He also praised the peace initiative by Russia and Germany. Medvedev added that he and Vucic had "long and open discussion about the situation in Ukraine, what happened, who is responsible and what should be done".
Vucic has said several times in recent months that Serbia respects territorial integrity of Ukraine but that it would never impose any sanctions to Russia, contrary to the position of the European Union. At the same time, Russian diplomats including Foreign Minister Sergey Lavrov, who has visited Belgrade in June, stress their appreciation for Belgrade's position.
On Tuesday Vucic will meet Russian President Vladimir Putin.