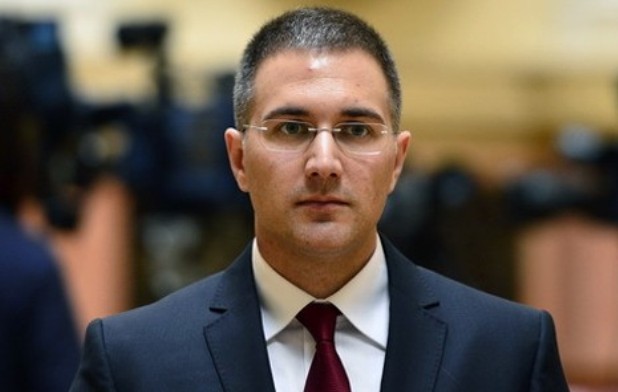 By Milos Mitrovic – Belgrade
The doctorate of Serbian Interior Minister Nebojsa Stefanovic is valid, according to personal opinion of the Prime Minister Aleksandar Vucic. However, the special commission is going to determine whether Stefanovic's work was plagiarism, and if the founding is positive minister would "take the responsibility", Vucic told "Prva" Television today.
Recently, the experts from East London University have claimed in their analysis that Stefanovic's doctorate was plagiarism. The website which has published the analysis has been shut down and Vucic's initial reaction on founding of the authors was that he had "never read such stupid analysis".
When asked by "Prva" journalist on Stefanovic's doctorate issue, Prime Minister said that the question "implies political dilemma, because audience will be able to judge only according to its own impression and on the basis of the media harangue".
Stefanovic, former Parliament speaker, is PM's closest associate.  He obtained his PhD at the private Serbian Megatrend University whose rector Mica Jovanovic defended Stefanovic vigorously after claims on plagiarism appeared. In the meantime, Education Ministry announced that Jovanovic's claims on his own doctorate were not truth.
Namely, Jovanovic stated in his official CV that he had obtained his doctorate at London University, but Ministry, as Vucic has confirmed today, has the proofs that this is false.
Jovanovic now claims that he will find his doctorate and prove he was right.
Vucic admitted that Megatrend University is not his favourite university.  "I am not fan of Megatrend, and unfortunately I could not hide it", Vucic said adding that he has more confidence in state owned universities in Serbia.
He also said he could not understand discussing Stefanovic's doctorate in a day when Serbian officials "are meeting with their counterparts from RepublikaSrpska to elaborate the marking of Vidovdan and President TomislavNikolic holds a speech on history revising".
Vidovdan, June 28, is orthodox Christian holiday and important day in Serbian national mythology. On Vidovdan 1914 Austro-Hungarian viceroy Franz Ferdinand was assassinated in Sarajevo.
The centenary of the assassination which has marked the beginning of World War One now spark the debates on causes of the conflict and the role of the Kingdom of Serbia at the time.