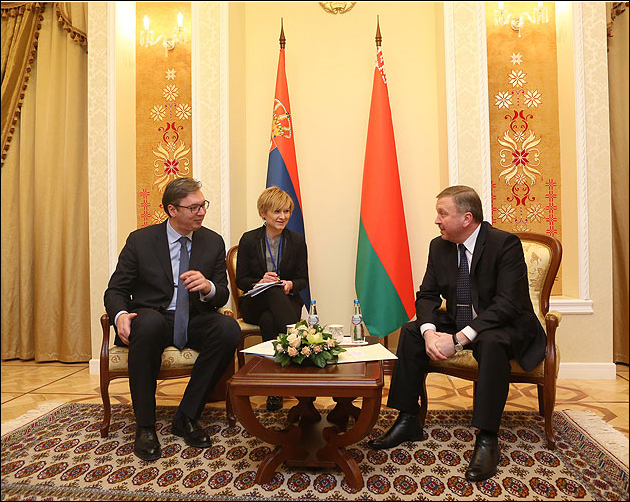 Good and friendly relations between Serbia and Belarus should contribute to the better trade and economic cooperation, while both countries are interested in establishing joint companies, prime minister Aleksandar Vucic told the media in Minsk, during his official visit to Belarus.  Vucic revealed that the two sides started talks on importing weapons from Belarus to Serbia, including warplanes.
Vucic met today his Belarusian homologue Andrei Kobyakov.
Belarus is very friendly country, and Serbia does not have any political problems with it, but economic cooperation could be better, Vucic told journalists, adding that our "doors are widely opened".
"In 2016 the increase of economic and trade exchange was not possible due to the price of oil, the fall of the ruble and problems Russia and Belarus are faces with, but now our efforts would be intensified in order to achieve this in 2017", Vucic said.
He stressed that Serbia has a surplus in trade with Belarus and that Serbian exports could increase further. Both countries are interested in founding joint companies that would produce ammunition or weapons for third countries; some parts could be produced in Belarus and others in Serbia.
Belarus is interested in privatizing some Serbian firms; nine Serbian companies operate soundly in Belarus, the premier went on.
Considering cooperation in defense industry, the talks on acquiring "additional tools and weapons" for the Serbian military have started, "first of all for protection of the skies", Vucic said, singling out fighter jets and anti-aircraft weapons that could be "acquired at the best prices".
"We have also discussed acquiring very powerful systems for the defense of the aerial space, but I would not talk about it before talks with Lukashenko", Vucic said. These talks are planned for tomorrow.
He announced that Lukashenko is scheduled to visit Serbia later this year./IBNA
PHOTO: AleksandarVucic and Andrei Kobyakov