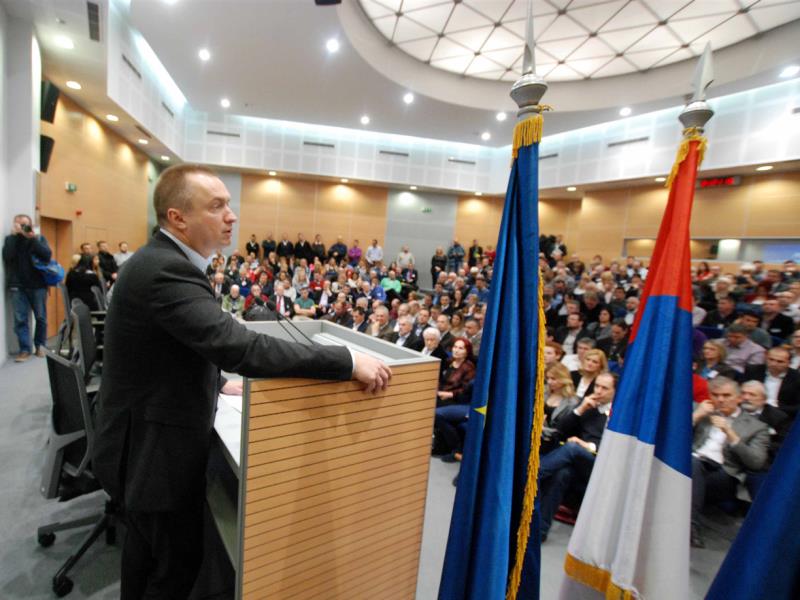 Belgrade, February 1, 2016/ Independent Balkan News Agency
By Milos Mitrovic
Opposition Democratic Party (DS) leader Bojan Pajtic announced that this group "starts the battle for a free, dignified and happier Serbia", adding that "the basic features of the life in Serbia are now fear and humiliation". Speaking at DS Main Committee on Sunday, Pajtic claimed that Serbian Progressive Party (SNS) led by Prime Minister AleksandarVucuc has lost fifth of its voters in last eight months.
Pajtic also said that polls have suggested that more citizens intend to abstain from voting. "Aleksandar Vucic knows this and that's why he has called elections, to take the opportunity to remain in power until 2020", he rendered.
Vucic has announced early elections last month. The date has not been decided yet.
At the same time Pajtic appealed to citizens to vote. If two thirds of voters use their right "Vucic and his camarilla would become history for this country, it would be over with him (Vucic)", he claimed.
Serbia needs knowledge and a regulated system, but at present the country "is Eldorado for bots and dummies, where you can by diploma, and throw knowledge under your feet", DS leader said. "The point for us is not to be better than DS – because everybody can achieve this – it's rather to be better than DS until 2012", Pajtic said alluding to period when his country was ruling.
In his words, DS is now "readier than ever" for elections.
But both polls and analyst suggest that SNS would remain in power.
In the meantime, SNS vice-president and Deputy PM Zorana Mihajlovic said that DS and its partners "are lost in space and time". Mihajlovic expects DS would also lose elections in the Autonomous Province of Vojvodina which are to be held simultaneously with local and general elections.