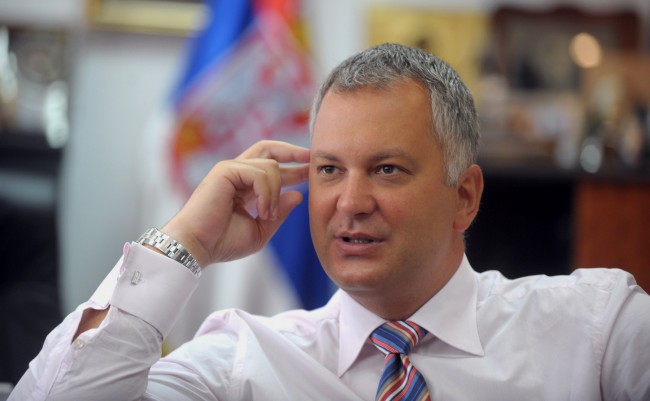 The appointment of Ana Brnabic for the new prime minister of Serbia was nothing more than the reshuffle of the government with the same coalition and the same people, Dragan Sutanovac (photo), the president of the Democratic Party (DS) said.
In the interview for Blic daily Sutanovac also claimed that Serbian Progressive party (SNS) and its coalition parties have lost the majority among the voters in Belgrade.
The president Aleksandar Vucic, who is also SNS leader, has picked Brnabic to succeed him at the prime ministerial post because of his fear that he would lost the power within his own party, Sutanovac said. Using metaphorical words, DS leader said that Brnabic, who was state administration minister until last week, would be the "conductor", while foreign minister and SPS leader Ivica Dacic would represent "a political carman". "And Vucic would continue to lead the country", Sutanovac added.
"Additionally, in that way he (Vucic) is trying to deceive both East and the West", he claimed. Sutanovac said that SNS "is deeply divided party in which everybody waits for his moment". Still, he believes that the statements on both "disharmonic voices" and "lost majority" in the parliament represent "nothing but well trained scenarios and, in the end, Vucic will again reaffirm his authority within the SNS".
"This is the same government which has reduced the pensions and the salaries, indebted country for 10 billion dinars, increased all the taxes; the government that misuses the whole country in order to preserve the rule of Aleksandar Vucic", Sutanovac said. "Of course that everybody would vote, on command, for everything that Vucic orders", he went on alluding to the parliamentary majority.
Dragan Markovic Palma, leader of the "United Serbia", a group within the Vucic's coalition, claimed that his party would not support Brnabic because of her homosexual orientation. But Sutanovac says that all ruling coalition members "are just the figures at Vucic's chess plate that use to show the existence of pluralism; at the same time Palma remains consistent to his public homophobic statements".
Sutanovac claimed that Vucic's coalition has lost the majority among the voters in Belgrade. The local elections in the capital should be organized at the latest in 2018. DS leader believes that it is possible that Vucic would simultaneously call general elections "because he is going well only in campaigns".
Sutanovac said that DS works on cooperation with other opposition groups in order the city authorities in Belgrade to be changed. The closest to DS in ideological terms are the Social democratic Party led by former Serbian president Boris Tadic and the group headed by ex-ombudsman Sasa Jankovic, he said./IBNA