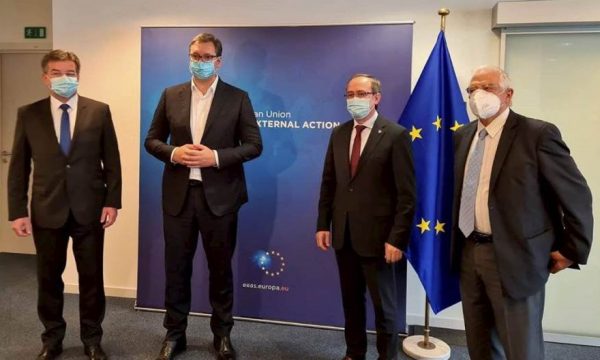 Kosovo, Serbia leaders to meet in coming days, EU's envoy Lajcak confirms
The European Union Special Representative (EUSR) on Kosovo-Serbia Dialogue, Miroslav Lajcak, during a press conference jointly with the US Deputy Assistant Secretary Matthew Palmer held Tuesday in Pristina said the high-level meeting between Kosovo Prime Minister Albin Kurti and Serbian President Aleksandar Vucic facilitated by the EU is expected to be held in a few days in Brussels, Gazeta Express reports.
Lajcak who concluded a two-day visit to Kosovo on Tuesday said that the primary goal of his visit was preparations for a high-level meeting between Kurti and Vucic expected to be held in a few days in Brussels. During his visit to Kosovo Lajcak met President Vjosa Osmani, Prime Minister Albin Kurti, Deputy Prime Minister Besnik Bislimi and Foreign Minister Donika Gervalla.
The EU's envoy on dialogue said that there is a potential that the year 2021 to be positive when it comes to the European agenda of the Western Balkans. "There was a discussion among 27 Foreign Ministers of the EU and there will be another discussion on 22 June. We will have EU-Western Balkans Summit in October and all this platform will be used to move forward the European agenda of the region, including Kosovo," Lajcak said.
US Deputy Assistant Secretary Matthew Palmer said the US believes that mutual recognition between Kosovo and Serbia will move things forward. He said that it is up to parties to identify compromises they want to make in order to reach a final deal saying that the Dialogue is facilitated by the EU and supported by the US.
The US envoy on Western Balkans said that his country strongly supports Kosovo-Serbia dialogue and said that they are actively involved in dialogue by cooperating with the EU facilitator Lajcak and his team aimed at reaching a final agreement on normalisation of relations./ibna