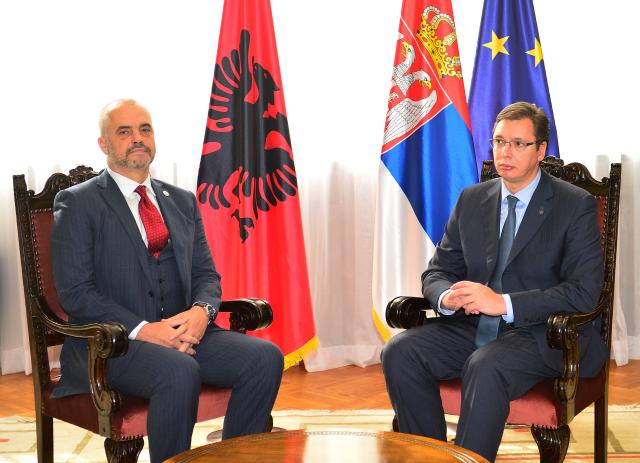 Tirana, November 10, 2014/Independent Balkan News Agency
The joint press conference in Belgrade between the Albanian PM, Edi Rama and the Serb one, Aleksandar Vucic has not gone without tension, where the most heated topic between the two countries, "Kosovo", has put the two counterparts in an awkward position.
PM Vucic held his opening speech by saying that this is an important meeting for Serbia and Albania, as after many years, two prime ministers of these countries meet each other.
He expressed the conviction that joint topics will be found and that a cooperation agreement between the two countries has been signed.
"Through cooperation, we can advance toward European Union, for a new chapter not belonging to the past, but the future", said Vucic.
Vucic declared said that he believes Kosovo remains Serbia, but in spite of the incident in the football pitch, he expressed his readiness to cooperate with Albania and move forward.
On his part, PM Rama said that in case of PM Vucic's visit to Albania, hospitality will be mutual and Albania will feel sorry if the stance is the same, because independent Kosovo, said he, is a reality and must be accepted as such as soon as possible.
Earlier, PM Edi Rama declared that the national flag of Albania is lifted and the anthem is honored in Belgrade after 68 years, praising such thing.
"We have shared so much history together, but our conviction is that our children must not suffer as a result of the past. Europe's actuality and Balkan challenges will test relations between the two counties. We will do everything we can to communicate intensively and to strengthen cooperation and produce regional solutions. For Kosovo, we have two different stances, but the reality is one, independent Kosovo recognized by different world countries is an incontestable reality", said Rama.
Asked about the incident in the football match between Albania and Serbia, PM Vucic declared that the lifting of the drone has been well organized, adding that this act is condemned.
He said that he was sorry that Kosovo is being mentioned, although it was not on the agenda, saying that he didn't expect such provocation: "I will allow nobody to lower Serbia in the middle of Belgrade. I'm sorry that topics that were not on the agenda were mentioned".
On his part, PM Rama said that state policies are not born, are not developed and are not dictated by a football pitch, underlining that the visit to Belgrade suggests a new relation that was aimed to be established and the government of Albania is determined to fulfill such thing.
The head of the Albanian government said that Albania and Serbia are not enemies, but they have joint enemies. He said that reality remains unchangeable, in spite of different perceptions, but said that this will not prevent saying things like they are thought and this cannot prevent cooperation.
The conference between the two PMs was held after a tete a tete meeting between them. /ibna/