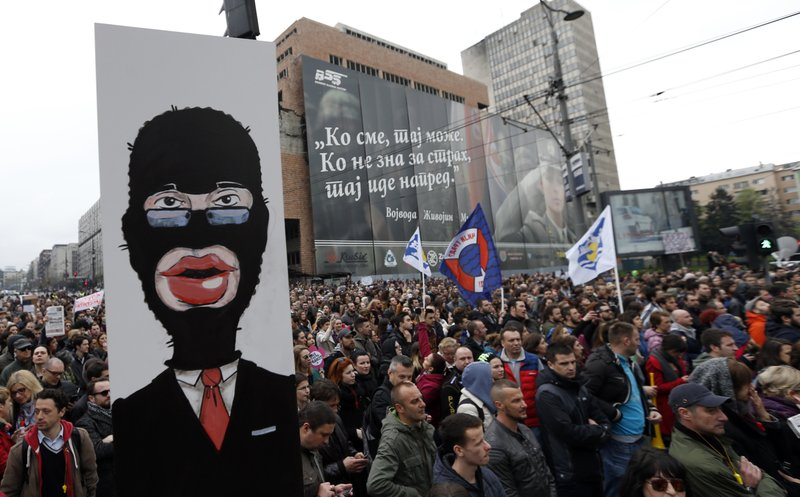 The recent protests in Belgrade have been more successful than it was expected, said Djordje Vukadinovic, opposition member of parliament in an interview. "Even the organizers have been surprised in terms of atmosphere and number of participants, while the government became pretty nervous", he added ahead of the new demonstrations that will be held on Saturday.
The first gathering was organized two weeks ago, after Borko Stefanovic, one of the leaders of the opposition coalition Alliance for Serbia (SZS) was beaten together with two activists.
SZS has accused the government for the violence, while President Aleksandar Vucic and other officials stressed the fact that perpetrators were arrested, claiming that the ruling Serbian Progressive Party has nothing to do with the beating. The second protest was held under the slogan "Let's count us" after pro-government media downgraded the number of protestors.
According to different estimations, the protests have been the greatest in a year.
"To be sure, the regime will not fall because of the protests regardless of their success and number of people. But this is a step in the positive direction", Vukadinovic, told Danas daily.
"I believe that this combination of civic and political protest is good", he added, alluding to the fact that SZS does not formally lead the demonstrations. "And that's why the regime and its satellites would do anything to discredit them (protests)".
When asked to comment on the president's statement that he would not fulfill any demands "even if five million people took to the streets", Vukadinovic answered that Vucic behaved "as usual, by saying nonsense and acting non-statesmanlike, inciting conflict… It is obvious that he cannot or does not want to act in different manner".
After the protests started, Vucic has signaled that early elections could be called.
"Under these circumstances and under this government… expecting fair and democratic elections would be a delusion. However, I think that we should insist at least on some minimal requests … especially in terms of electoral roll and media. The regime, of course, prepares its Trojan horses and 'favorite opposition', but it is clear that such elections and parliament would not be legitimate", Vukadinovic explained.
"In its essence, this a the protest against the contrariness of the regime, as well as the collapse and perversion of all democratic institutions, against fear and media blockade. Aleksandar Vucic is the personification of all of this, and he is really the main issue and main target of this protest", Vukadinovic concluded./IBNA