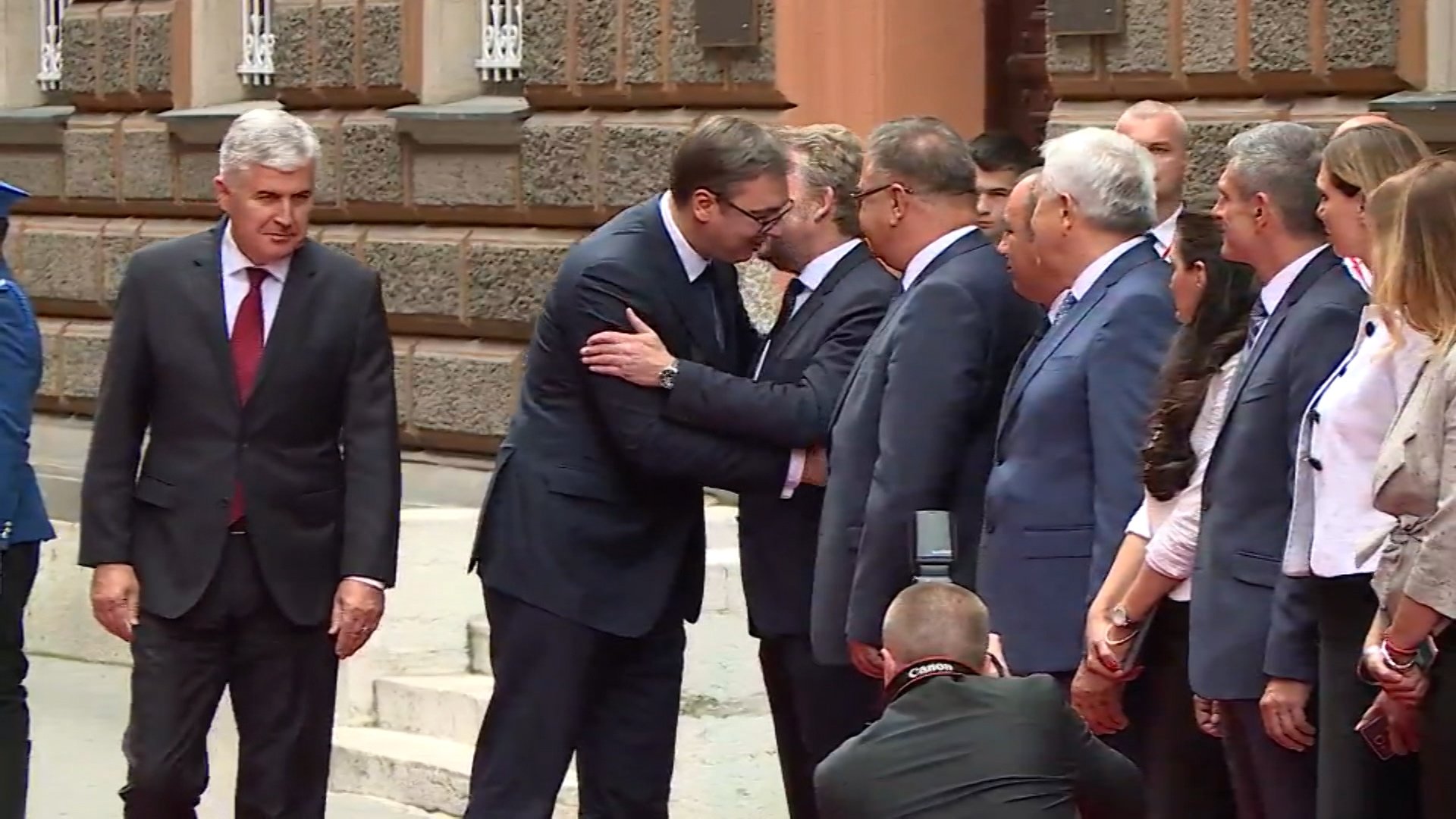 With the highest state honors, members of BiH Presidency on Thursday welcomed Serbian president, Aleksandar Vucic, in his first official visit to Sarajevo.
In the days before the visit, politicians and analysts called this visit "historical" since it is the first visit of a Serbian president in the last six years. Just a short time after general Ratko Mladic was arrested in Serbia, president at the time, Boris Tadic, had arrived on an official visit to BiH. During the presidency of Tomislav Nikolic, an official invitation was sent and then withdrawn on the request of Bosniak member of BiH Presidency, Bakir Izetbegovic. Officially, Izetbegovic demanded postponement of the visit after Swiss authorities, in accordance with warrant from Serbia, arrested one of Bosniak warlords in Srebrenica, Naser Oric. Unofficially, there were a lot of other reasons, including Nikolic's statements during the war in BiH.
Surprisingly, Izetbegovic welcomed the arrival of Aleksandar Vucic in Sarajevo despite the fact that Vucic statements during war were more radical than Nikolic's. On the official welcoming ceremony, in Sarajevo, Izetbegovic did not make any complaints on the Serbian national anthem "Bože pravde", but same song for him and other Bosniak politicians was unacceptable, illegal and unconstitutional as anthem of Republic of Srpska, which had to change it in accordance to BiH Constitutional Court's decision. What's more, Vucic and Izetbegovic on the ceremony, in the front of BiH Presidency building, gave a friendly hug like old friends.
After the meeting of Vucic with members of BiH Presidency, at the press conference, BiH Presidency Chairman, Dragan Covic, expressed his hope that the talks that Vucic and the Serbian delegation will confirm that a new time in relations  between Serbia and BiH is coming.
Stressing that the talks were extremely constructive, Covic said that many topics that burdens relations in BiH were discussed, but that it is possible to jointly solve them in the future.
"We talked about economic co-operation, the conduct of a common foreign policy and the diplomatic facilities that we shared until recently. Also, we spoke about mutual support in the international institutions and relations where we have common interest", Covic said.
Covic said that, in the discussion about the border of Serbia and BiH, the importance of resolving this issue for BiH has been highlighted because the border issue with Montenegro has already been resolved. He added that, with the joint efforts, special commissions in both states can quickly come to a solution in order to send a strong message to all in BiH that it is time to turn to the future and not to be burdened by the past.
Vucic emphasized that in Serbia BiH has a sincere friend
"The most important thing for me in Sarajevo is to say, regardless of the fact that many will not believe it and that I know that some who voted for me will not be happy about it, but I came to Sarajevo as the president of Serbia to say that Serbia is a true and honest friend to BiH, and we show this friendship through respecting the territorial integrity of BiH and strengthening all kinds of ties", Vucic said in his address to media in Sarajevo.
Vucic said that he talked with Covic, Bakir Izetbegovic and Mladen Ivanic about concrete problems, emphasizing that political differences were discussed openly, as well as economic issues.
"Concretely, we are finalizing the establishment of the Commission for the Border, and we will dramatically accelerate talks about establishing the final border. Today, 97 percent of the border has been resolved, and we are close to finding solutions for that three percent, which would be a remarkable signal for the region, for BiH, about future intentions of Serbia and to show that we want to negotiate", Vucic said.
As he added, he and BiH Presidency members at the meeting discussed various other issues like construction of the Sarajevo-Belgrade highway, facilitating the trade in goods and capital by the abolition of various taxes and the co-operation in diplomacy through a possible joint abolition of visa for certain countries, in order to ease the arrival of their tourists in region.
Vucic continued his visit to BiH in East Sarajevo, in RS, and then he returned to Sarajevo to hold a meeting with recently enthroned Orthodox Church Metropolitan of Bosnia, Hrizostom.
On Friday, Vucic and members of his delegation will hold several meetings to discuss various diplomatic and economic issues./IBNA