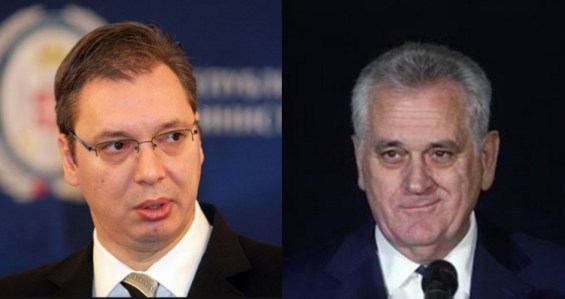 "Politics is not a trade, I am not trader and I don't want to take part in a media reality show", prime minister Aleksandar Vucic told journalists who asked him about further steps after president Tomislav Nikolic announced that he would rerun in upcoming elections. Nikolic's bid was contrary to Serbian Progressive Party's (SNS) decision, a group he founded, to nominate Vucic for president.
Vucic said today that he would not reveal to journalists whether he intends to meet "somebody". Earlier, sources from Nikolic's cabinet said that they have expected meeting with Vucic. Nikolic did not officially confirm his bid; last week incumbent president said that he and Vucic have been discussing two scenarios: according to the first, Nikolic reruns with SNS and has Vucic's support, and second, Vucic runs and transfers his party leader's and prime minister's positions to Nikolic.
Vucic said that he respects Nikolic "very much", but added that he is not "a trader". "I will seat and talk; if this is fine, then it's OK; if it's not – life goes on", Vucic said. On Sunday, Nikolic said that he was waiting for an "agreement" with Vucic, rebuffing accounts that he would found a new party with support of some MPs.
An opposition group appealed to Vucic to resign as prime minister, stressing that all resources in presidential campaign would be in his hands. Vucic however, claimed that he would be in campaign only for five days.
The first propaganda video of current PM's presidential campaign appeared last week. It's expected that presidential elections will be organized in April./IBNA