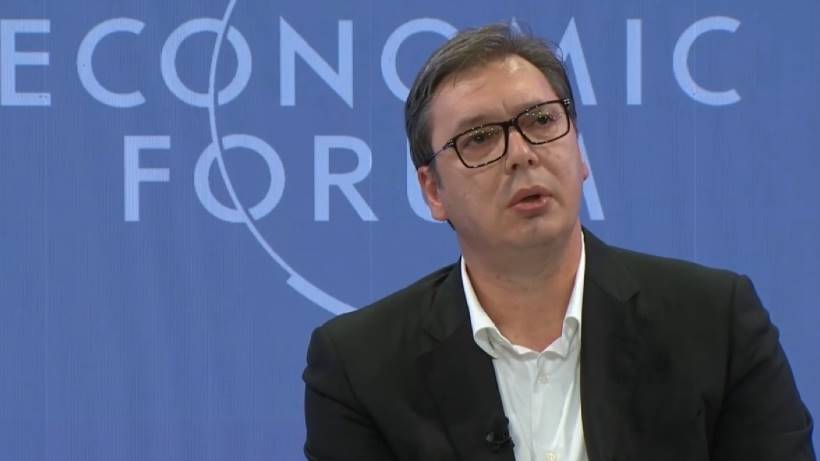 Serbian President Aleksandar Vucic stated tonight just before the World Economic Forum kicked off in Davos that this was a great place to hear a lot and to make important contacts for the benefit of Serbia.
It is very important for Serbia to be in Davos and to be well represented, Vucic told reporters while in Davos.
He recalled that this was the sixth year that Serbia participated in the world's largest economic forum.
Vucic said this was truly important for improving Serbia's position by having talks with businessmen whom he called to invest in the country.
"We now have the opportunity to talk about the investment environment and call on agents to continue investing in Serbia", Vucic stressed.
He added that he would be getting involved in two major groups, one economic and the other one purely political revolving around the Western Balkans, where he would be talking about how he envisioned the future, the mini-Schengen initiative, economic co-operation and other problems.
Vucic noted that it was often the case that after discussions with some businessmen in Davos, some work ended up getting done.
"This is not a job or investment market, but we are looking at how to improve the country's position", Vucic explained.
Vucic confirmed he would be joining a panel with Hashim Thaci tomorrow in which he expected for an exchange of arguments at a civilized level to take place.
To a question regarding what he was expecting from this meeting, Vucic noted that it would be an interesting meeting, as there were going to be many leaders from Europe and the world.
Vucic noted that Thaci is still the President of the Provisional Institutions in Pristina, adding, "We will see what he will say while I continue to represent Serbia's interests".
The Serbian president stressed he was certainly not excited about Thaci, but his job was to represent Serbia and fight for its interests, adding that the people did not elect him to be nice, but to solve problems and fight for his country.
"I expect an exchange of arguments that will not be simple or easy, but I believe that at a civilized level we will be able to make it happen" Vucic underlined.
"The letter of intent to create direct flights between Belgrade and Pristina is an important fact that we have been discussing for a long time. It is a compromise upon which no one can assume that we will recognize Kosovo", Vucic concluded. /ibna