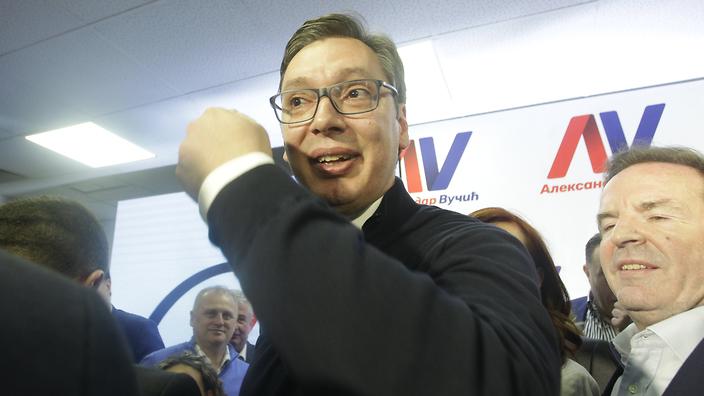 Aleksandar Vucic, Serbian prime minister and the leader of the Serbian Progressive Party (SNS), was elected the new president on Sunday elections. Vucic received 57.03 percent of the vote, which was more than enough for him to triumph in the first round.
Former Ombudsman Sasa Jankovic came second with 14.89 percent, whhile mockery candidate Ljubisa PreletacevicBeli was the biggest surprise of the elections gaining third place with 9.04 percent.
"I am very proud because of the fact that we have gained the enormous confidence of the citizens; we have gotten some 2.35 million of the votes out of 3.7 million of those who voted", Vucic said triumphal on Sunday evening. "I scored 12 percent more votes than all the other candidates combined", the premier said, adding that "the feeling was unreal after achieving so much votes in the first round".
According to Vucic, if the votes of those who did not vote for him but who are not opposed to his politics are counted "it is clear that a large number of citizens showed that they support reforms, European path, friendly relations with Russia and China…"
"There are a number of problems we will have to resolve in the next two months", PM said alluding to period until his inauguration. "There's a lot that should be done. Now I will be the prime minister, but also the elected president of Serbia", Vucic said.
He thanked the German chancellor Angela Merkel and Russian president Vladimir Putin because "they talked with Serbia even during the campaign". PM and now president-elect recently visited Berlin and Moscow, meeting with Merkel and Putin, which was interpreted as their support to him.
Austrian politicians were among the first to congratulate Vucic last night – chancellor Christian Kern, foreign minister Sebastian Kurz and EU commissioner from Austria Johannes Hahn.
According to sources from SNS, Vucic could choose former justice minister Nikola Selakovic to succeed him as PM, while interior minister Nebojsa Stefanovic could become the new party leader.
Analysts say that the fact that the opposition failed to unite around a single candidate has helped Vucic to win in the first round. A significant part of the opposition voters, disillusioned with their leaders, voted instead for the mockery candidate – Luka Maksimovic (25), leader of the movement "You didn't taste the cabbage rolls". Maksimovic aka Ljubisa PreletacevicBeli ("White") "claimed" his victory on Sunday night. He celebrated his extraordinarily good results with fireworks./IBNA