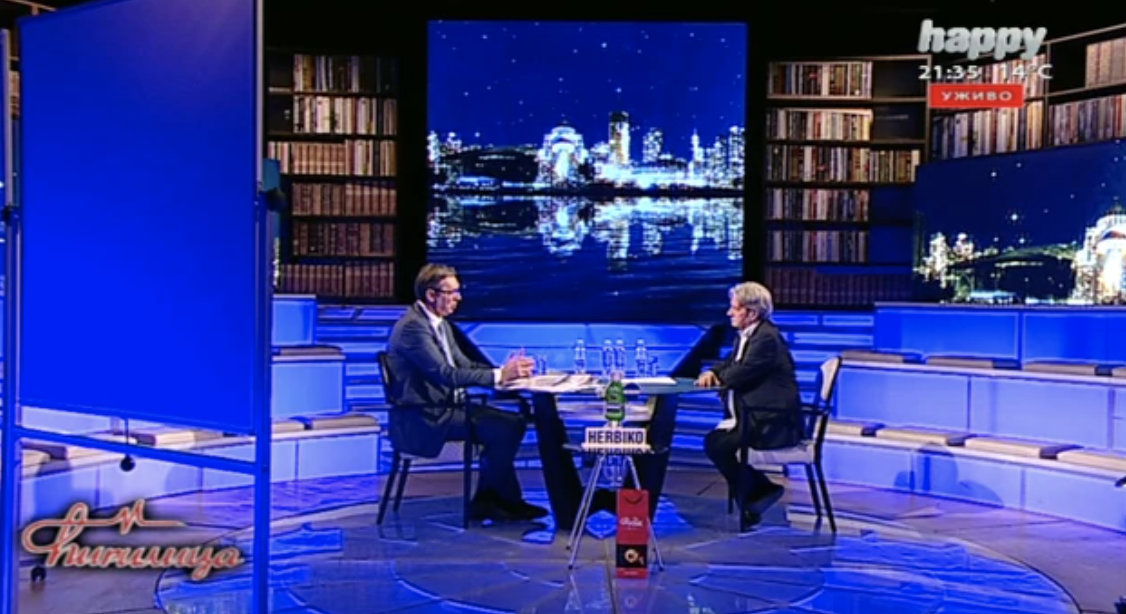 Serbian President Aleksandar Vučić appeared on Happy TV on Monday night, stating he was happy that the country had been able to help the people of the region, adding that it was an important message that the area could move forward and they could achieve a lot when they worked together.
"I am just happy to be able to help anyone. If we can save someone's life, that's great. You do not differentiate people based on their religious affiliation or what country they live in, but by whether you can help them or not. It's an important message that the region can move forward and that we can do a lot when we work together," said the Serbian president.
"It has been proven that our common potential is greater than how we experience ourselves. I am glad that Serbia is setting higher and higher goals. I think everyone was proud that we could help someone. We did our duty," Vučić said.
Referring to the government's restrictive measures and decisions, he stressed that he was not elected to flatter and smile to others, but to achieve progress in Serbia. "Had I flattered the EU, we would not have any vaccines. Had I flattered myself, we would not have equipment," Vučić said.
He went on to add that he understands the distress arising from the restrictions, however he listens to the experts who he says have good intentions. "You have to look first at how to protect lives and then what to do with the economy."
The president also addressed the anti-vaxxers saying that anyone can spew nonsense online, but the state can not fight conspiracy theories.
Vučić also spoke about the bombings and foreign forces, saying that America is fighting here for its own interests and for its child, Kosovo.
"It is now a teenager; sometimes this child is a little naughty, but they will protect it. Both the Americans and the Germans. Everyone has their own interests. The Russians want to keep pushing in the Balkans, the Russians want to stay here. The Chinese are expanding their network of friends, but no one can be friends with the other one. Our motto is to be friends with everyone. Of course this is not easy. Sometimes we meet the condemnation from Brussels, sometimes from Washington or Moscow. You can not satisfy everyone in politics," said the Serbian President.
Vučić also referred to the criticism addressed to the country by the European Parliament report, calling several points unfair to Serbia.
"They tooted their own horn in this report and I think it's a problem for them. I will not say a single bad thing, and where there is an objective approach, we must consider it. But this is not just a double standard, this is not just hypocrisy, there is no word to describe it. But fortunately, the citizens of Serbia understand everything," the Serbian president said.
"Important representatives of the Great Forces told me that we should be more humble, but I promised that I would never discover the source. When we sent aid to Italy, they told us it should not have happened, they processed it as a political blow. Who does little Serbia think it is, helping big countries?" Vučić added.
Wrapping up the interview, the Serbian President said he was proud of his work and that the SNS should head to the polls with two lists. A list of everything that has been achieved, as well as a plan and schedule for what will happen.
"Since day one in office -and mind you I went through hell with a slander campaign 12 years ago, I have been ready for the possibility of not being in power tomorrow. And I know how it will be, everyone will talk about how they knew what my mistakes were, but hypocrisy is something that has always been disgusting to me. I know that when I step down they will say the worst about me. But I am not interested in that, I am interested in what they will be saying in the next 50 years; who improved the state, who built hospitals, who strengthened the army," Vučić said. /ibna