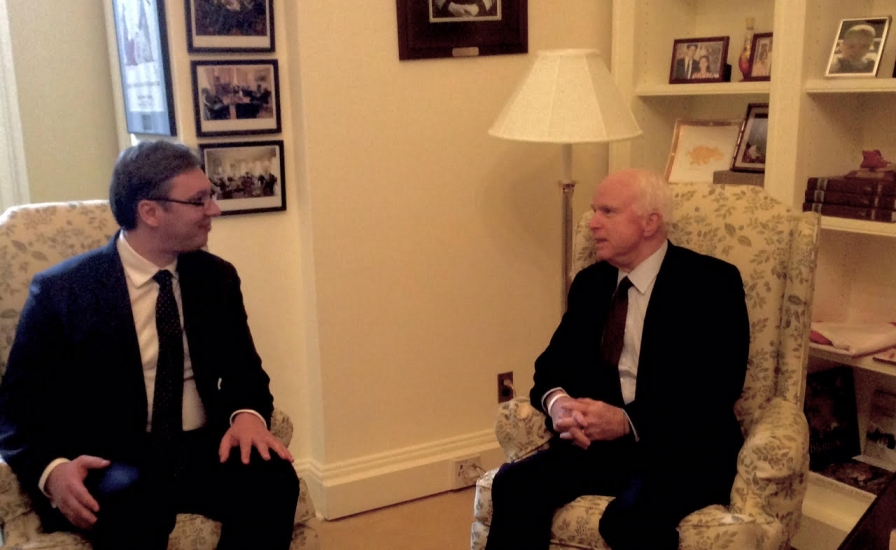 Belgrade, June 4, 2015/ Independent Balkan News Agency
By Milos Mitrovic
United States respect very much economic reforms in Serbia, Prime Minister Aleksandar Vucic said today after meeting with National Security Advisor Susan Rice. Vucic, who has finished his two-days visit to Washington, has also met Victoria Nuland, Assistant Secretary of State.
Serbia can count on U.S. support Vucic said.
"Susan Rice has expressed unambiguous support for opening the first chapters in negotiations with the European Union", Vucic said alluding to Serbian accession talks. Belgrade officially started negotiations in January 2014, but due to EU's insistence on normalization of the relations with Kosovo, none of the chapters have been opened so far. Vucic added that he believes Washington would send to EU "signal of support for Serbia". "Everything will then be incomparable easier which is very important for Serbia", premier told Radio-Television of Serbia.
Vucic underlined that Rice is "third ranking person" in the White House and that she has praised economic and political reforms in Serbia. In his words, Rice has also commended Serbian efforts on preserving stability in the region.
Serbian integration into EU, relations with U.S., regional challenges and energy security of Serbia were among issues discussed during premier's meeting with Victoria Nuland, as he stated on his Twitter account.
American Vice-President Joe Biden was supposed to be Vucic's main host in Washington. However, due to his family tragedy – Biden's son passed away – the meeting was canceled. According to Serbian media, Vucic said there was "possibility" for Serbian delegation to go to Delaware and express condolences to Biden.
Vucic concluded that Serbia enjoys U.S. support "more than ever".
Serbian PM has also met John McCain, Senate Armed Services Committee Chairman. "Serbia can count on American support on its European path", McCain said. U.S. don't dictate EU what to do, but what Washington can do is to help (Serbia) by economic, diplomatic and other means, RTS quoted McCain as saying.
Photo: Aleksandar Vucic and John McCain in Washington