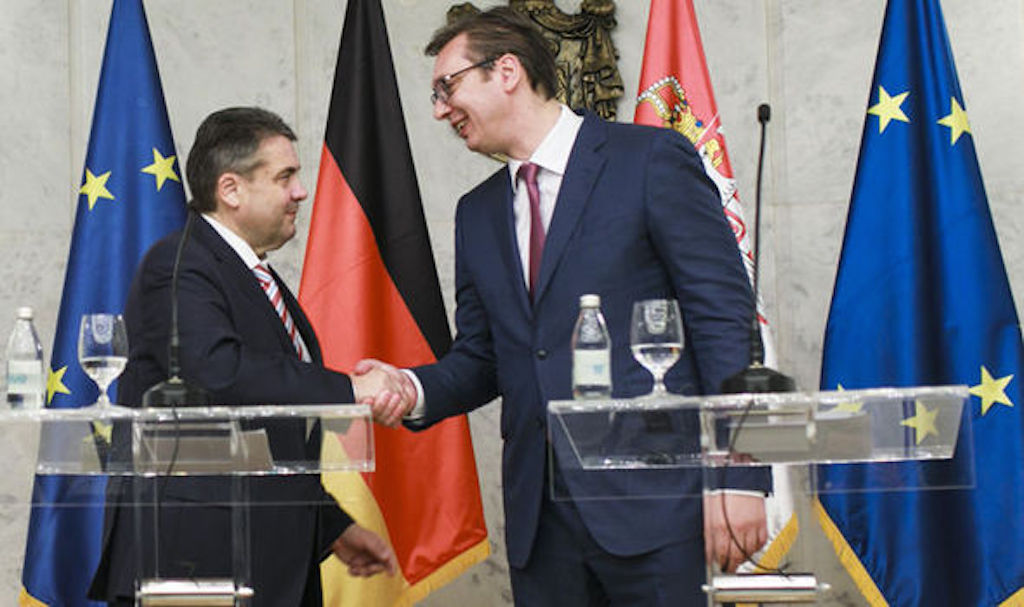 Fulfilling the standards is the central precondition for the accession into the European Union, German Foreign minister Sigmar Gabriel said in Belgrade on Wednesday. During his brief stay, Gabriel met with the Serbian president Aleksandar Vucic and the prime minister Ana Brnabic.
"One cannot turn a blind eye to the fulfillment of the standards", Gabriel said after meeting Vucic. Gabriel and Vucic discussed the process of the accession of Serbia into the EU.
Gabriel stressed the importance of the rule of law, as well as the independence of the judiciary, media freedom and the fight against corruption and organised crime.
"These are the issues which are important to the whole Europe; anyone who wants to join (EU) must cooperate in order to abide by these standards and strengthen them", the German FM said.
Gabriel and Vucic also talked about the situation in the region and Vucic's visit to Croatia earlier this week.
"You know that when my neck is red like this it means my blood pressure is high and that I have been explaining the regional issues… That I have strived, with a lot of passion, to explain how important it is to preserve peace, stability and tolerance in the region", Vucic told Gabriel at the press conference.
At the meeting with Gabriel, premier Ana Brnabic thanked Germany for its support to the Serbian efforts in becoming an EU member state. She said that Serbia is ready to continue the dialogue with Kosovo, adding that Belgrade expects constructiveness from Pristina; Brnabic explained that Pristina should implement the Brussels Agreement "in all its segments".
After visiting Belgrade, Sigmar Gabriel went to Pristina, Kosovo…/IBNA