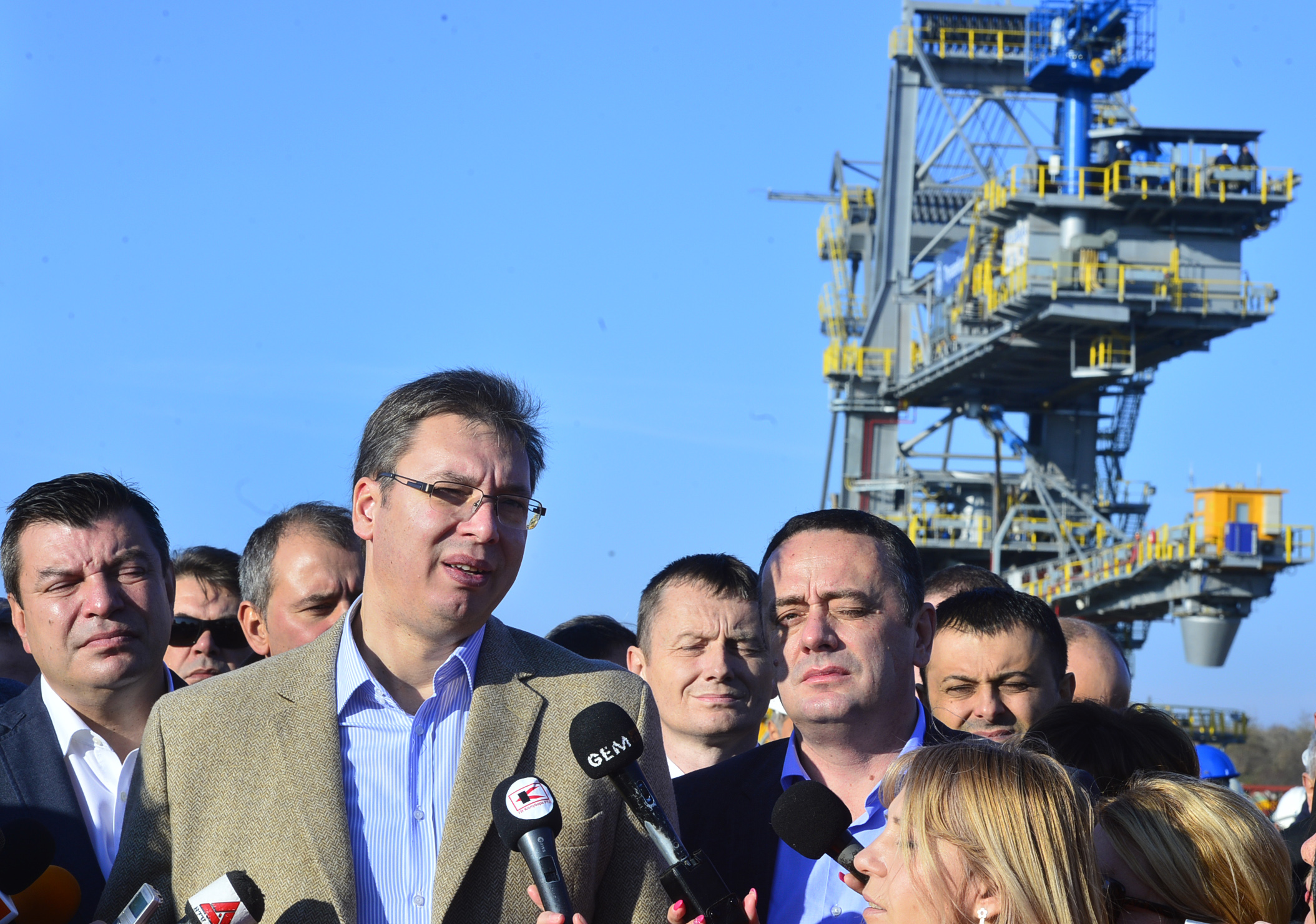 Belgrade, April 27, 2015/ Independent Balkan News Agency
By Milos Mitrovic
The responsibility and work are the key words of Serbian government, Prime Minister Aleksandar Vucic said today; the cabinet session was held in the surface of the mine of the coal complex "Kolubara" to mark government's first anniversary. Vucic announced political reforms and reducing the number of members of parliament.
The government has unequivocally adopted the report on its performance; Vucic said told his cabinet they "will continue to make difficult and courageous decisions", Tanjug agency reported.
Prime Minister said that the number of the legislators would be reduced from 250 to "between 125 and 150". Since the multiparty system was introduced in 1990, Parliament has had 250 members. According to Vucic, the government and the Parliament should protect "its people" rather than "those privileged".
Considering the government reshuffle – the issue in Serbian media for months – the premier confirmed that changes would be made. The reshuffle would be carried out swiftly "but it will be sweet", Vucic said. "Ministers, gentlemen, you have the responsibility, privilege and honor to do something for your country. We have to work more and harder. If we kept working like we have been working so far – I don't say it's unsatisfactory – it would not be enough", he said.
Vucic's Serbian Progressive Party won absolute majority in 2014 elections. However, he decided to form coalition government.
The PM underlined that the government's objective is to reduce budget deficit under 3.5 percent of the GDP and reach 2 or 2.5 percent growth in 2016. If this is done, Serbia would be among the most successful countries in Europe, he said.
Vucic also claimed that the government has successfully defended the dignity of the country recalling that "key history events" such as World War One Battle of Cer and 1999 NATO aggression against Serbia have been marked.
In March, Serbia and NATO have signed Individual a Partnership Action Plan (IPAP), the most far reaching cooperation model beside membership in the alliance.
Vucic explained that the government session was held in surface coal mine because "this is the only place we have struggled against the floods", alluding to natural disaster from May 2014. He stressed that the floods were "the existing situation" at a time his cabinet was forming.
Premier reiterated that his team is not responsible for the current economic situation. "But we have to take responsibility to fix it", he added.
Vucic became Prime Minister a year ago, but was Deputy PM since July 2012. After 2012 elections his party had already become the largest group in Parliament.
The PM emphasised that the current inflation is at the lowest level in five years.
Considering "Belgrade Waterfront" project, the which government signed with United Arab Emirates Eagle Hills Company on Sunday, Vucic said that first phase would be finished until 2019.
The project is aimed at improving Belgrade's cityscape and economy by revitalising the Sava River amphitheater. Belgrade Waterfront is estimated at EUR 3,5 billion.
Vucic revealed that government has signed an agreement with German meat producer Tenis today announcing it would bring 1,000 jobs and improve Serbian agriculture, "which is at 1910 level".
When asked by journalists about his health condition, Prime Minister answered he is good.
Last week Vucic cancelled some of his activities due to health reasons.
"I am fine, I will get better".